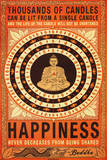 Thousands of candles can
be lit from a single candle
and the life of the candle
will not be shortened.
Happiness never decreases
from being shared.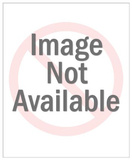 Do not dwell in the past,
do not dream of the future, concentrate the mind on
the present moment.

Holding on to anger is
like grasping a hot coal
with the intent of throwing
it at someone else;
You are the one
who gets burned.

There is no way to happiness - happiness is the way.

Siddhartha Guatama, Poster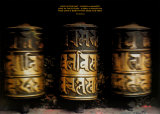 Love in the past is
only a memory,
Love in the future is
only a phantasy.
True love is born
in the here and now.
Buddha is a title which refers "one who has awakened" to the true nature of existence and could be applied to those who free themselves from suffering and the cycle of birth, death and rebirth.
These quotes are attributed to Siddhartha Gautama, a prince of the Shakyas (c. 566 to 486 BCE), the historical founder of Buddhism.
---
---
"Let us rise up and be thankful, for if we didn't learn a lot today, at least we learned a little, and if we didn't learn a little, at least we didn't get sick, and if we got sick, at least we didn't die; so, let us all be thankful."

---
"Neither fire nor wind, birth nor death can erase our good deeds."

---
"Do not overrate what you have received, nor envy others. He who envies others does not obtain peace of mind."

---
"An insincere and evil friend is more to be feared than a wild beast; a wild beast may wound your body, but an evil friend will wound your mind."

---
"Words have the power to both destroy and heal. When words are both true and kind, they can change our world."

---
"What we think, we become."

---
"We are what we think.
All that we are arises
With our thoughts.
With our thoughts,
We make our world."

---
"All that we are is the result of what we have thought. If a man speaks or acts with an evil thought, pain follows him. If a man speaks or acts with a pure thought, happiness follows him, like a shadow that never leaves him."

---
"To be idle is a short road to death and to be diligent is a way of life; foolish people are idle, wise people are diligent."

---
"Do not overrate what you have received, nor envy others. He who envies others does not obtain peace of mind."

---
"Anger will never disappear so long as thoughts of resentment are cherished in the mind. Anger will disappear just as soon as thoughts of resentment are forgotten."

---
"Your body is precious. It is our vehicle for awakening. Treat it with care."

---
"Believe nothing merely because you have been told it. Do not believe what your teacher tells you merely out of respect for the teacher. But whatsoever, after due examination and analysis, you find to be kind, conducive to the good, the benefit, the welfare of all beings – that doctrine believe and cling to, and take it as your guide."

---
"As the fletcher whittles and makes straight his arrows, so the master directs his straying thoughts."

---
"Your work is to discover your world and then with all your heart give yourself to it."

---
"Those who are free of resentful thoughts surely find peace."

---
"Meditation brings wisdom; lack of meditation leaves ignorance. Know well what leads you forward and what hold you back, and choose the path that leads to wisdom."

---
"The man that foolishly does me wrong, I will return to him the protection of my most ungrudging love."
---
"You are all the Buddha." ~ Last words of Buddha.