ASTRONOMY POSTERS


astronauts


astronomers


atmosphere


auroras


comets


galaxies


Hubble Telescope


moons


nebula


planets


- Earth


- Jupiter


- Mars


- Saturn


solar system


space exploration


space phenomenon


space shuttle


star charts


sun


zodiac


astronomy terms
---
---
---
ASTRONAUTS & SPACE EXPLORERS

---
---
---
---
---
---
---

---
Astronauts Posters, Prints & Charts

for the social studies, science classrooms, home schoolers, theme decor for office and studio.
---
science > astronomy > ASTRONAUTS LIST < explorers < social studies
---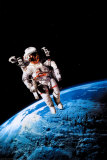 A person who has traveled in space (altitude of at least 80 - 100 km) is called an astronaut, cosmonaut (Russian), taikonaut (Chinese), or afronaut (Africans).
The titles derive from the Greek "astro" (star), "kosmos" (universe) and "nautes" (sailor).
The pioneering astronauts were recruited from the ranks of military test pilots.
* travelled to Moon, ** walked on Moon
---
A

Buzz Aldrin**
William Anders*
Neil Armstrong**


B

C

Eugene Cernan**
Roger B. Chaffee
Eileen Collins
Michael Collins*
Charles "Pete" Conrad**
Gordon Cooper
Robert Crippen


D-E-F

Charles Duke**
Donn F. Eisele
Ron Evans*


G

Yuri Gagarin
Owen Kay Garriott
John Glenn
Dick Gordon*
Virgil "Gus" Grissom


---

---

---

H-I-J-K-L

M

Ken Mattingly*
Christa McAuliffe
Bruce McCandless II
Jim McDivitt
Edgar Mitchell**
F. Story Musgrave


N-O-P-Q-R


Major Nikolaye
Ellen Ochoa
Ellsion Onizuka
Judith Resnik
Sally Ride
Stu Roosa*


---

---

---

S

Wally Schirra
David Scott**
Maarten Schmidt
Harrison Schmitt**
"Rusty" Schweickart*
Alan Shepard**
Deke Slayton
Thomas Stafford*
Jack Swigert*


T-U-V-W-X-Y-Z

Valentina Tereshkova
Ed White
Alfred Worden*
Boris Yegorov
John W. Young**

---
---
First Man on the Moon - "One small step for (a) man, one giant leap for mankind."
---
Space Shuttle Challenger Crew: Michael J. Smith, Dick Scobee, Ronald McNair, Ellison Onizuka, Christa McAuliffe, Gregory Jarvis, Judith Resnik, died on January 28, 1986, when the Challenger disintegrated after launch.
---
Space Shuttle Columbia Crew: Rick Husband, William McCool, Michael Anderson, David Brown, Kalpana Chawla, Laurel Clark, Ilan Ramon, died on February 1, 2003, when the Columbia disintegrated during reentry on its 28th mission.
---
previous page | top | list of space travelers by name
---
I have searched the web for visual, text, and manipulative curriculum support materials - teaching posters, art prints, maps, charts, calendars, books and educational toys featuring famous people, places and events - to help teachers optimize their valuable time and budget.
Browsing the subject areas at NetPosterWorks.com is a learning experience where educators can plan context rich environments while comparing prices, special discounts, framing options and shipping from educational resources.
Thank you for starting your search for inspirational, motivational, and educational posters and learning materials at NetPosterWorks.com. If you need help please contact us.
---