child development


child fitness


children's literature


discipline


notable teachers


safety

---
---
Creative Educators-
Make your own posters
and resource material-


subscribe and
have access to
Clip Art Images
 Fonts
 Web Graphics
 Backgrounds
 Photos
 Photo Objects
 Illustrations
 Buttons
 Icons
 Sounds
 Holiday Clipart
 Religious Clipart
---

---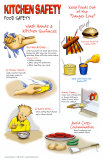 Food Safety
in the Kitchen
Poster
sorry, not available
Food Safety in the Kitchen Poster (Part 1 of 4)

Poster Text:
Keep Foods Out of the "Danger Zone"...
Wash Hands & Kitchen Surfaces
Avoid Cross Contamination
---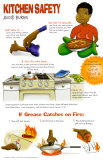 Avoid Burns
in the Kitchen
Poster
sorry, not available
Avoid Burns in the Kitchen (Part 2 of 4)

Poster Text:
Too Hot to Handle ... Use thick, dry oven mitts to handle hot pans, and lift lids, as a shield, away from you.
Roll with It ... Wear close-ffitting clothes and roll up your sleeves before you cook.
Turn for the Best ... Turn handles of pots and pans to the back of the stove to avoid bumping them and knocking the pan off the stove..
Clear It ... Keep burners clear of books, papers, pot holders, and other things that can burn.
Keep household chemicals away from children and food. Read all label directions and follow them. In an emergency, call the Poison Control Center or 911.
If Grease Catches on Fire: 1. Turn off the burner. 2. Put the lid on the pan. 3. Pour baking soda or salt on the flames.
If your hair or clothing catches on fire: STOP, DROP & ROLL!
---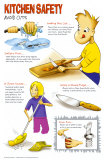 Avoid Cuts
in the Kitchen
Poster
sorry, not available
Avoid Cuts in the Kitchen (Part 3 of 4)

Poster Text:
Making the Cut ... Place food on a cutting board and always cut away from your body. Keep fingertips away from the blade.
Safety First ... Wash knives and other sharp objects separately. As you wash, hold the knife with the blade away from you.
Keep a Sharp Edge ... Always use a clean, sharp knife when cutting. A sharp knife is a safer knife.
A Clean Sweep ... Sweep up broken glass immediately. Use a wet paper towel of lift glass splinters. Put broken glass into a heavy paper bag and then into the trash.
Never Ever ... Never use a knife to open a lid or as a screwdriver.
---

Prevent Falls & Shocks in the Kitchen
Poster
sorry, not available
Avoid Falls & Shocks in the Kitchen (Part 4 of 4)

Poster Text:
Get a Grip ... Use nonskid rugs in the kitchen to help prevent you from slipping on the floor.
Don't Slip ... Mop up spills on the floor immediately to avoid falling. Use warm, soapy water to clean the spill, and then dry the floor.
It's Shocking ... Keep water and liquids away from electricity to avoid shock and electrocution. Use only dry hands to plug and unplug electrical appliances. Always unplug a toaster before removing food that has become lodged in it.
A Step Up ... Use a stepstool to reach high places. Don't climb on chairs or countertops because you could slip and fall.
---

Safety Awareness
Laminated Poster
sorry, no longer available
Poster Text: Safety is a Smart Choice - Personal safety is all about making smart choices. Small decisions – like how you've getting home from the party, who you should meet at the mall, when to go jogging.
– can have huge consequences. Taking control of your own safety means knowing what kinds of situations to avoid, being aware of your surroundings, and knowing who you should trust.
- stay out of chat room, lock up when home alone, call a friend to accompany you -
---
Poster Text: I have a right to a safe playground, and a responsibility to use the equipment properly.
---
Poster Text: I have a right to a safe school, and a responsibility to help keep it safe.
---
Poster Text: I have a right to feel safe, and a responsibility to look out for others.
---
A Healthy Habit: Read Food Labels

Poster Text: Scan the Nutrition Facts panel on package to evaluate what's inside and compare the nutrient value of food. ...
---
Poster Text: Many parents go to great pains to rid their homes of poisons that may harm their children. May of those same people, however, overlook some of the most poisonous items in their homes ... House plants. While not all plants are poisonous, many are toxic.
Children like to explore. They experience the world around them through touch, smell and taste. They constantly pick things up and put them in their mouths.
Contact your local poison control center to find out what plants are poisonous. Remove harmful plants from your home. Take up any remaining plants and place them out of reach of little hands and mouths.
Remember to place identifying tags in plants in case you need to provide medical personnel with information quickly.
---
Poster Text: Dental Checkup, Deodorant/Antiperspirant, Physical Checkup, Brush, Mouthwas, Dental Floss, Bath or Shower, Shampoo, Comb/Brush, Wash Hands, Condition Skin, Manicure/Pedicure.
---
This Is The Way I Wash My Hands -

Poster Text: I always wash my hands before I eat, after I use the bathroom or have a diaper change, and whenever I get my hands dirty. Washing my hands often will help me from getting sick. My teacher helps me wash my hands and checks how well I've done.
1- I stand on a small stool if I need to reach the sink and wet my hands with a little warm water. I put a little dab of liquid soap – about the size of a pea – or foam soap on my hands.
2 - I rub-a-dub-dub my hands together until I have lots of bubbles (as long as it takes to sing the Happy Birthday song, twice. ) I wash my palms, the back of my hands, my wrists, between my fingers, and under my fingernails.
3 - I rinse my hands, fingertips down, under warm running water in the sink, I rinse from my wists to the tips of my fingers until all of the dirt and bubbles are gone.
4 - I dry my hands with a paper towel. When my hands are dry I use the paper towel to turn off the faucet and then throw it in the trash. Sometimes my teacher puts lotion on my hands and I rub it in really well.
---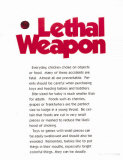 Lethal Weapon
Poster
not currently available
Every day, children choke on objects or food. Many of these accidents are fatal. Almost all are preventable. Parents should be careful when purchasing toys and feeding babies and toddlers.
Bit-sized for baby is much smaller than for adults. Foods such as cherries, grapes or frankfurters are the perfect size to lodge in a young throat. Be certain that foods are cut in very small pieces or mashed to reduce the likelihood of choking.
Toys or games with small pieces can be easily swallowed and should also be avoided. Remember, babies like to put things in their mouths, especially bright colorful things . . . they can be deadly.
---
previous page | top | lab safety
---
I have searched the web for visual, text, and manipulative curriculum support materials - teaching posters, art prints, maps, charts, calendars, books and educational toys featuring famous people, places and events - to help teachers optimize their valuable time and budget.
Browsing the subject areas at NetPosterWorks.com is a learning experience where educators can plan context rich environments while comparing prices, special discounts, framing options and shipping from educational resources.
Thank you for starting your search for inspirational, motivational, and educational posters and learning materials at NetPosterWorks.com. If you need help please contact us.
---