Who Am I? What Makes Me Tick?
- the question everyone asks- some lesson ideas for supporting and encouraging Self discovery using drawing, short stories, and the Global PathMarkers. Also check out the More Posters pages for instructional posters of artists, authors, heroes and heroines, innovators, peace makers and scientists.
---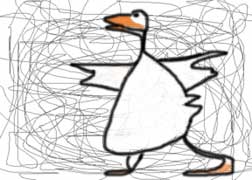 Scribbles- Remember gazing up at the clouds and having a familiar object appear, then morph into another shape as the time passes. Here's a little scribbling exercise for in house day dreaming.
---
Racing Turtles- Great fun for an indoor day- a simple toy you create from stiff cardboard and string.
---

Color Wheel- a lesson plan for learning to mix colors with poster (tempera) paint. Full size template plus short description of color theory, glossary, extension activities, links.
---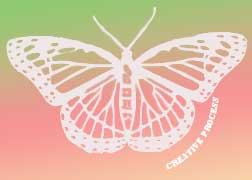 Crayon Resist- a resist is a pattern or design made by applying a color wash over a wax line drawing made with a crayon or candle.
---
American artist Edward Hicks struggled with his temper all his life. Look at his series of Peaceable Kingdom paintings to discover ways of learning peace and art together.
---
Georgia O'Keeffe Lesson Plans - Ideas to spark creative lessons at all age levels.
---
| | |
| --- | --- |
| Revelation Mask, Kwakiutl People, Canada | |
Masks are made from many different materials - paper, wood, plaster, plastic, papier-mâché (French for chewed up paper), as each culture responses with the resources in their environment to create masks that uniquely express their situation.
The word mask is related to the French masque, Italian maschera, Spanish másquera, Arabic Maskharah (jester or man in masquerade) and Latin mascus (ghost) and persona, as in a role in a play.
---
Teaching Alternative Energy Ideas - Solar and Wind Energy, the Energy of Encouragement - "Those things which we call encouragement, comfort, love, respect, are drawn from the soul of man, and the more freely we give of them, the more do we renew and reinvigorate the life about us." Maria Montessori, The Montessori Method, chapter 2
---
Visiting Artists- Bring a parent-artist (or sibling-artist, neighbor-artist, cousin-artist) into your school, classroom or for a special school event - there is nothing like an in-person performance or demonstration to ignite the curiosity of your students. The impact is even greater when the artist is a person that is only 1 or 2 degrees of separation from their audience.
---
School Gallery- A curator is responsible for coming up with the creative theme for an exhibit, finding the venue, and the preparation of art work for display. Every teacher reading this definition knows they curate already, so you have no need for panic about setting up an art exhibit for your school!
---
School Gardening Ideas - A Spring lesson theme introduced in the fall is really thinking ahead . . . the late summer and early Autumn are exactly the time the start preparing soil for a spring garden that will brighten everyone's day. So get out your shovels and gardening catalogs for big jump on a Spring theme.
---
Eating together, sharing food is the way we learn to trust on another, to form community.
Through out history artist have illustrated how we share meals. Observing how food is shared with fellow humans will help us understand more of who we are and how our ancestors have influenced us, as well as project a possible future. Use posters and prints of people eating together to create teachable moments where ever you share meals with students.
---
Flowers by the Month, the State floral emblems, and Reputation. Introduce students to the language of flowers by seasons, mythology, cultures and events.
---
Cooperative Games - some game ideas for teaching cooperations rather than competition.
---
Calendar Templates for creating your own classroom calendar.