20th Century America


American Experience


American Revolution


Colonial America


Founding Fathers


Ancient Civilizations


Anc. African Civilizations


anthropology


Asian Americans


aviation


banned books/authors


Bill of Rights


Black History


US Civil War


Voices of Diversity


notable educators


explorers


flags


geography


Great Thinker Quotes


Heroes Science & Tech


Heroes from History


notable historians


Historic Days


historic documents


Historic Headlines


Historic Heroes


history of art


History Through Lens


History Through Literature


Holocaust


Images of Labor


Inventions Changed World


Latinos


maps


Middle Ages


money/currency


Nation of Immigrants


Native Americans


Olympics


peace & justice


philosophers


Political Leaders- US


Political Process


presidents


Stonehenge


Supreme Court


Supreme Court Justices


Technology's Past


Vietnam Era


world leaders


world's religions


World War I


World War II


This Day in History
---
---

---
Political Process Educational Posters

for the classroom and home schoolers.
---
social studies > POLITICAL PROCESS < United States
---
The Political Process series of educational posters depict the three Branches of US Government: the Executive, Judicial and Legislative, with reference text to the terms, qualifications, duties, and powers over the other branches.- Supreme Court Landmark Decisions posters | Bill of Rights posters
---
• "To reform a world, to reform a nation, no wise man will undertake; and all but foolish men know, that the only solid, though a far slower reformation, is what each begins and perfects on himself." ~ Thomas Carlyle
• "Democracy, which is a charming form of government, full of variety and disorder, and dispensing a sort of equality to equals and unequals alike." ~ Plato
• "He who is not a good servant will not be a good master." ~ Plato

---
The Executive Branch -
The President
Terms
• Elected to serve a four-year term.
• Cannot be elected for more than two terms.
Qualifications
• Must be 35 years old or older.
• Must be a resident of the U.S. for at least 14 years.
• Must be a natural-born citizen.

Duties
• Make sure all federal laws are enforced.
• Is in charge of protecting the nation and seeing to its defense.
• Directs nation's dealing with other countries and makes treaties with them.
• Proposes new laws to Congress.
• Appoints most of the top officials of the executive branch.

Powers Over Other Branches
• Can veto bills passed by Cognress.
• Appoints federal judges, including Supreme Courts Justices.
Presidents pictured: Washington (1789-1797), Van Buren (1837-1841), Lincoln (1861-1865), Wilson (1913-1921), FDR (1933-1945), Kennedy (1961-1963).
---
The Legislative Branch-
The Congress
Senate, House of Representatives
Terms
• Representatives: elected to serve a two-year term.
• Senators: elected to serve a six-year term.
Qualifications
• A Representative must be 25 years old or older, a U.S. Citizen for at least seven years, and a resident of the state from which elected.
• A Senator must be 30 years old or older, a U.S. Citizen for at least nine years, and a resident of the state from which elected.

Duties
• Makes all federal laws.
• May propose amendments to the Constitution.
• Conducts investigations and reviews government actions.

Powers Over Other Branches
• Senate must approve all treaties (by a two-thirds vote) and important presidential appointments (by majority vote).
• Congress can "override" presidential vetoes with a two-thirds vote of both House and Senate.
• House "impeaches" and Sentae tries federal officials, including President, for wrongdoing.
---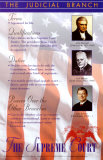 The Judicial Branch Poster

no longer available
The Judicial Branch- Chief Justices: John Marshall (1801-1835), Earl Warren (1953-1969), John Roberts (2006- )
Terms
• Appointed for life.

Qualifications
• Any citizen can be a Supreme Court Justice. The president chooses each justice, but the Senate msut also give its approval.

Duties
• Decides cases having to do with the Constitutuion, federal laws, teaties, and several other kinds of arguments.
Powers Over Other Branches
• Can decide whether a law or executive action is constitutional. Laws or actions declared unconstitutional cannot be enforces.
• more Supreme Court posters
---
---
A French political cartoon showing First Estate (Church) and Second Estate (Nobility) recoiling in fear from the revolutionary Third Estate or commoners.
---
Midsummer Madness - a hot but hopeless chase after the presidential butterfly - Cover from the August 13, 1892 Judge magazine.
---
---
---
I have searched the web for visual, text, and manipulative curriculum support materials - teaching posters, art prints, maps, charts, calendars, books and educational toys featuring famous people, places and events - to help teachers optimize their valuable time and budget.
Browsing the subject areas at NetPosterWorks.com is a learning experience where educators can plan context rich environments while comparing prices, special discounts, framing options and shipping from educational resources.
Thank you for starting your search for inspirational, motivational, and educational posters and learning materials at NetPosterWorks.com. If you need help please contact us.
---