20th Century America


American Experience


American Revolution


Colonial America


Founding Fathers


Ancient Civilizations


Anc. African Civilizations


anthropology


Asian Americans


aviation


banned books/authors


Bill of Rights


Black History


US Civil War


Voices of Diversity


notable educators


explorers


flags


geography


Great Thinker Quotes


Heroes Science & Tech


Heroes from History


notable historians


Historic Days


historic documents


Historic Headlines


Historic Heroes


history of art


History Through Lens


History Through Literature


Holocaust


Images of Labor


Inventions Changed World


Latinos


maps


Middle Ages


money/currency


Nation of Immigrants


Native Americans


Olympics


peace & justice


philosophers


Political Leaders- US


Political Process


presidents


Stonehenge


Supreme Court


Supreme Court Justices


Technology's Past


Vietnam Era


world leaders


world's religions


World War I


World War II


This Day in History
---
---
ASIAN AMERICANS EXPERIENCE
BOOKS
---
---
---

---
Great Asian Americans Educational Posters

for the classroom and home schoolers.
---
social studies > GREAT ASIAN AMERICANS < Asia posters < geography
---
The Great Asian Americans series of posters- Michael Chang, Daniel Inouye, Maxine Hong Kingston, Haing S. Ngor, Ellison Onizuka, I. M. Pei, An Wang, Chien-Shiung Wu, and Kristi Yamaguchi.
---
Michael Chang
b. 2-22-1972; NJ
Poster Text: In 1989, on the red clay courts of Roland Garros Tennis Stadium in Paris, Michael Chang played on the most memorable tennis matches in history. He was facing Ivan Lendl, who was then the world's top-ranked men's player in the semifinals of the French Open – one of the most important tournaments in tennis. Late in the match, Michael began to suffer from severe cramps in his stomach and legs, and it was clear he was having difficulty just walking around the court, let alone running. Even the television announcers said Michael would probably have to quit the match. But Michael not only continued playing, he actually defeated Lendl by using unusual tactics to break his opponent's concentration. At one point, he even served the ball underhanded! The next day, Michael defeated Stefan Edberg of Sweden to become the first American man since 1955 to capture the French Open title.
Those who expected Michael Chang to quit that hot day in Paris could not have known very much about this gifted young athlete. All his life, Michael has been rising to the occasion and surprising people with his strength and courage. Michael Chang was born on February 22, 1972, in the city of Hoboken, New Jersey. His father, Joe Chang, left China during the communist revolution of 1948. After living for a time in Taiwan, he came to the United States in 1966 and studied chemistry. He met Betty Tung on a blind date and the two were married that same year. Their first son, Carl, was born two years later. When Michael was only a few years old, the Chang family moved to St. Paul, Minnesota. There, Joe Chang developed an interest in tennis. He read books and magazine about the game and soon began teaching his two sons to play. The Chang family enjoyed tennis so much that they decided to move to California so they could play year-round. Michael began playing tennis when he was six years old, and by the time he was seven he had already won his first tournament. As a sophomore in high school, Michael made the most difficult decision of his life: he left school to join the professional tennis tour.
Michael's hard work and dedication paid off early in 1987 he became the youngest player to win a U.S. Open match. The next year, he became the youngest player in 60 years to play in a match on Wimbledon's famed Centre Court. In 1989 came his French Open victory, making him the youngest male winner in that tournament's history. Michael prides himself on his physical and mental toughness. He has won many matches by outlasting his opponents, and he once said, "I know that if I can stay on the court long enough, I can figure out what I have to do to beat most players." Michael undoubtedly has many years of great tennis yet to come. And that makes the other players very, very nervous.
---
Daniel Inouye
b. 9-7-1924; Honolulu, HI
d. 12-17-2012; Bethesda, MD
Daniel Inouye, a Medal of Honor recipient and a United States Senator from Hawaii serving as the President pro tempore of the US Senate from 2010 to his death, was the highest-ranking Asian American politician in U.S. history.
---
Maxine Hong Kingston
b. 10-27-1940; Stockton, CA
Activist, award winning Chinese-American writer and Professor Emeritus at the University of California, Maxine Hong Kingston blends fiction with non-fiction in reflecting on her cultural heritage.
• more Maxine Hong Kingston
---
Haing S. Ngor
b. 9-22-1940; Cambodia
d. 2-25-1996; Los Angeles, CA
Dr. Haing Ngor is best known for winning the 1985 Best Supporting Actor Academy Award for his portrayal of Cambodian journalist and refugee Dith Pran in The Killing Fields.
---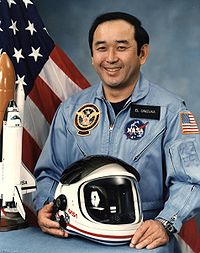 Ellison Onizuka
image from Wikipedia
Ellison Onizuka
b. 6-24-1946; Kealakekua, HI
d. 1-28-1986, Challenger Space Shuttle
Poster Text: Ellison Onizuka's fascination with rocket began at a very early age. His parents recall how one New Year's Eve they felt strange vibrations and heard loud noises that seemed to be coming from beneath the floor of their home. Frightened, they ran outside to discover clouds of smoke pouring from underneath the house. After a few panic-stricken minutes, they discoverd the source of the noise and smoke, young Ellison had set off a roman candle firework in order to see how it worked!
Ellison Onizuka was bone on June 24, 1946, in the village of Keopu, Hawaii. His parents, Masamitsu and Mitsue Onizuka, were "Nisei" – that is, they were the American born children of Japanese immigrants. Ellison was the third of four children, and by all accounts he was the most curious and energetic member of the family. He loved to take things apart and examine them to discover their secrets. Ellison's parents encouraged him to devote his energies to schoolwork, and he quickly became a top student. He was especially good in science and math, so it was no surprise when he announced that he wanted to become an engineer. At the age of eighteen, Ellison left Hawaii and enrolled in the University of Colorado to study aerospace engineering. He also joined the Air Force ROTC program at Colorado and quickly established himself as a leader. During his senior year, Ellison met Lorna Yoshida, a pretty Japanese-American girl who was also from Hawaii. They were married on the day after Ellison graduated. Sadly, Ellison's father had died only a few weeks earlier. According to Japanese custom, the oldest son is responsible for the family when the father dies, and Ellison offered to return to Hawaii to run the family business. But his mother insisted that be continue his education, and in 1969 Ellison received his Master's degree in aerospace engineering and joined the U.S. Air Force.
While working as a test pilot in California in the 1970s Ellison was chosen by NASA to be one of 220 astronauts for the space agency's new shuttle program. In 1985, Ellison soared into orbit aboard the shuttle "Discovery," becoming the first Asian-American in space. The next year, he was chosen as one of seven people to take part in a mission aboard the shuttle "Challenger." Tragically, a malfunction of the shuttle's booster rocket caused an explosion that claimed the lives of the entire "Challenger" crew. At a memorial service, former astronaut Neil Armstrong said of Ellison Onizuka, "[He] had his life cut short for many reasons he could not control. Yet during his years he accomplished much more than most. Our world is a better place for his being here. He will always be remembered."
---
I.M. Pei
b. 4-26-1917; Canton (Guangzhou), China

As a young boy growing up in China, Ieoh Ming Pei was told many times by his father that he would grow up to be a doctor, and that he would bring honor to his family and to Chinese people by performing great works of healing. There was only one problem: the sight of blood made the young boy sick. What he really loved to do was sit for hours and watch as workers put up building near his home in Shanghai. At the time, no one knew that I. M. Pei really would bring honor to his family and all Chinese people by performing great works. But instead of becoming a world-famous doctor, I. M. Pei would grow up to be one of the most talented and respected architects in the world.
I. M. Pei was born in the Chinese city of Canton in 1917. His name, Ieoh Ming, means "to inscribe brightly." His father was a banker, and the family traveled a lot before finally settling in Shanghai in 1927. At that time, a great deal of construction was going on in Shanghai, and young Iech Ming became fascinated with architecture, which is the art of designing buildings. Because he was from a walthy family, he was able to come to the United States to study. He began his studies at the University of Pennsylvania, but also attended the Massachusetts Institute of Technology and Harvard University. In 1948, he joined a real estate company and began designing his first buildings, including apartment, shopping centers and offices.
Although his parents originally expected him to return to China after college, I. M. Pei changed his plans after communists lead by Mao Zedong took over China's government. In 1954, I. M. Pei and his wife became Amercian citizens. Throughout his long career, I. M. Pei has designed some of the most unusual and exciting buildings in the world. His most famous works include the National Center for Atmospheric Research in Boulder, the John F. Kennedy Library in Boston, the Bank of China in Hong Kong, the East Building of the National Gallery of Art in Washington, D.C., and a stunning glass pyramid in the courtyard of the famous Louvre Museum in Paris. In 1987, he was chosen to design the Rock and Roll Hall of Fame in Cleveland. I. M. Pei's graceful buildings, which are known for their use of geometric shapes, have made him one of America's most famous architects. They have also made our nation's cities – and cities all over the world – more beautiful and exciting. And to think that all of this began with a young boy watching construction workers in Shanghai and dreaming about the future!
---
An Wang
b. 2-7-1920; Shanghai, China
d. 3-24-1990
Poster Text: Six hundred dollars – that's how much An Wang had when, in 1951, he rented some office space in Boston and began his computer company. By 1990, Wang Laboratories had 20,000 employees and annual sales of about $2.4 billion! But An Wang, one of the most important persons in the development of the computer, didn't let fame and success change him. As one of America's richest men, he continued to live a simple, quiet life, never owning more than two suits at one time!
An Wang, whose name means "Peaceful King," was born in Shanghai, China, in 1920. He was the oldest of five children. In 1926, An's father wanted to enroll his child in the school where he taught. But the school had no kindergarten, first, or second grade. As a solution, An's father enrolled him in third grade – at the age of six! An's grades were not good throughout elementary school. Because of this, his parents felt it would be better for him to wait a year or two before going on to junior high. But An wanted to continue. And he scored the highest of any of his classmates on the entrance exam. An eventually graduated from high school at the age of 16. He then went on to study electrical engineering at a university in Shanghai.
An Wang grew up during a period of great turmoil in China, The Communists were battling the ruling Nationalists. Then came World War Two, and the Japanese invasion of China. The was was still going on when An completed his university studies. During the war, An heard about a special program to study industry in America. He came to the United States in 1945 to take part in the program. He had originally planned to stay just two years. But he continued his studies and eventually received his Ph.D in 1948. For the next four years, Dr. Wang worked in the Harvard Computation Laboratory. It was there he developed a "magnetic code memory" – a device that allowed programs and data to be stored inside the computer itself. This invention became the basis for computers for the next 20 years. Dr. Wang patented his invention and used the money to start Wang Labs. By this time, Dr. Wang had a family. He and his wife Lorraine would eventually have three children.
Wang Labs grew quickly. One of its early successes was designing the first digitally programmed scoreboard for Shea Stadium in New York. In 1971, Dr. Wang designed a computer system to make secretarial work much easier. This was the very first word processor. In 1976, Wang Labs introduced a dramatically improved word processor. Whereas, the first one limited the user to editing a few lines of copy at any one time, this new word processor allowed the user to see the entire document at once. Words or entire sentences could be moved or deleted with a keystroke.
In his later years, Dr. Wang spent much of his time and energy trying to compete with industry giants like IBM and Apple. Sadly, Dr. Wang died in 1990 from cancer. An Wang will be remembered as a visionary businessman and inventor – a problem-solver who believed it was important to "find a need and fill it."
---
Kristi Yamaguchi
b. 7-12-1971; Hayward, CA
It has often been said that the key to success in sports, as in life, is dedication. Kristi Yamaguchi knows all about dedication. she began practing to be a figure skating champion at the age of 6. As a teenager she used to get up every morning at 3:45 so she could be out on the ice by 5 am. All of her hard work and dedication paid off in 1992, when she became the first American woman in 16 years to win an Olympic gold medal in figure skating.
Like many Asian-Americans, Kristi Yamaguchi has always lived in two worlds. Her father and mother are both Japanese, but both sides of her family have lived in American for almost 100 years. And both her mother's and her father's families faced discrimination during the 1940s, when many Japanese-Americans were cruelly and unfairly punished for Japan's attack on Pearl Harbor, Kristi's mother, Carole, was born in one of the so-called "internment camps" in which thousands of Japanese-Americans were imprisoned during World War Two. Her father's family was also sent tot he camps, and lost everything they owned.
Kristi Yamaguchi was born on July 12, 1971, and grew up in the California town of Fremont, mear San Francisco. Her father is a dentist, and Kristi is one of three children in her family. Although she was born with clubfeet, which means that her feet were bent in a way that made normal walking difficult, special shoes corrected the problem. In many ways, Kristi was a normal California kid – she loved sports and spent a lot of time outdoors. But Kristi also possessed an inner drive and strength that led her to take up the demanding sport of figure skating at a very young age. To be good at figure skating requires hours and hours of practice, and it can sometimes be boring and frustrating. But Kristi stuck with it, and in 1988 she won her first major amateur title at the World Junior Championships.
Early in her career, Kristi skated both singles and pairs. But after 1988, she concentrated on singles. The result was spectacular success, as Kristi finished second at the 1990 U.S. National Championships and first in the 1990 Goodwill Games. Kristi captured first place at the World Chamionships in 1991, and then went on to win the U.S. Nationals the following year. After that came her triumph at the Olympic, where she beat out her biggest rival, Japan's Midori Ito. Today, Kristi is a professional skater, and she continues to thrill audiences around the world with the beauty, grace and elegance of her skating.
---
---
---
I have searched the web for visual, text, and manipulative curriculum support materials - teaching posters, art prints, maps, charts, calendars, books and educational toys featuring famous people, places and events - to help teachers optimize their valuable time and budget.
Browsing the subject areas at NetPosterWorks.com is a learning experience where educators can plan context rich environments while comparing prices, special discounts, framing options and shipping from educational resources.
Thank you for starting your search for inspirational, motivational, and educational posters and learning materials at NetPosterWorks.com. If you need help please contact us.
---