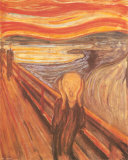 The term "Expressionism", referring to artistic distortion of reality for emotional effect, challenged academic works and settled complacient consciousness.
Expressionism generally was a European movement, primarily German, created as the 19th Century ended and the 20th began. 'Angst', the German word for fear and anxiety, was often used to describe Expressionism which proved to be the artist's intuition of the soon to be experienced turmoil and aftermath of the First World War.




Die Brücke (The Bridge) and Der Blaue Reiter (The Blue Rider) groups formed to "bridge between traditional neo-romantic German painting and modern expressionist painting" and provide support for Wassily Kandinsky and Franz Marc (Kandinsky -blue the color of spirituality + Marc - attraction to horses), respectively.
Precursors of expressionism images can be seen in German Renaissance painter Matthias Grünewald, the religious paintings of El Greco, and Vincent Van Gogh. Abstract Expressionism arose after WWII with painters such as Jackson Pollock and Willem de Kooning.


---