Dance Posters Index


Ballet


Ballet Movies


Dances


Ballroom


Folk / Ethnic


Native American Dance


Dance in Art


Musicals


Notable Dancers List


Choreographers List


Composers List

---
---
---

---
Donald O'Connor
b. 8-28-1925; Chicago, IL
d. 9-27-2003; California
Dancer, singer, and actor Donald O'Connor was the son of vaudeville performers. He started in films at age 12, appearing in many musicals including "Singing in the Rain", and the enormously popular "Frances, the Talking Mule."
---
---
---
Pelagia is reputed to have been an actress, dancer and courtesan in Antioch, in what is now Syria. It is said that she converted to Christianity, gave away her possessions and lived as a hermit in the desert, earning sainthood.
---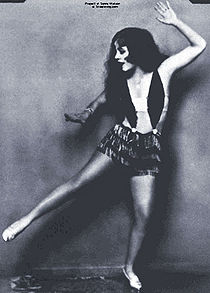 Ann Pennington
(no commercially
available image)
Ann Pennington
b. 12-23-1893; Wilmington, DE
d. 11-4-1971; NYC
Dancer and actress Ann Pennington starred on Broadway in the 1910s and 1920s. At one point she was earning $1,000 a week, switching back and forth between the Ziegfeld Follies and George White's Scandals.
Pennington, who was best friends with Fanny Brice (Funny Girl), was very petite - under 5' tall, and notoriously generous - she ended up dying in poverty.
---
Valentine Petit was a a singer and dancer who worked at the Folies Bergère. She married Leonce Perret (1880-1935), an actor and early French film director and producer.
---
Eleanor Powell
b. 11-21-1912; Springfield, MA
d. 2-11-1982; CA (cancer).
Eleanor Powell, an exuberant tap dancer, was a fixture in 1930s and 1940s films.
---
Jane Powell
née Suzanne Lorraine Burce
b. 4-1-1929; Portland, OR

Jane Powell became a Hollywood star with her singing, acting and dancing talents.
---
Pearl Primus
b. 11-29-1919; Trinidad and Tobago
d. 10-29-1994
Pearl Primus, a dancer, choreographer and anthropologist, played an important role in the presentation of African dance to American audiences.
Pearl Primus, who was trained in classical and preclassical dance by the master teacher Louis Horst and studied with such great dance pioneers as Martha Graham, Doris Humphrey, Hanya Holm and Charles Weidman, also received a Ph.D. degree in anthropolgy from New York University.
In July 1991 she was awarded the national Medal of Arts by President Bush, the highest honor given by the National Endowment for the Arts.
• more Black History posters
• Dancing in the Light: Six Dance Compositions By African American Choreographers / Asadata Dafora, Katherine Dunham, Pearl Primus, Talley Beatty, Donald McKayle, Bill T. Jones, DVD
---
Juliet Prowse
b. 9-25-1936; Bombay, India; raised in South Africa
d. 9-14-1996; Los Angeles (pancreatic cancer)
Dancer Juliet Prowse had a forty year career on stage, television and film. The world's attention was turned on her when Soviet leader Nikita Khrushchev called her dancing "immoral" when he visited the sound stage for the filming of the 1960 movie musical "Can-Can".
Other notable events in her life include a brief engagement of Frank Sinatra, an affair with Elvis Presley, the first guest on The Muppet Show, studied Bikram Yoga, was twice mauled by the same leopard, and showed off her famous long legs in L'eggs panty hose commercials.
---
previous page | top | next
dancers list | a | b | c | d-e | f-g | h-i | j-k-l | m | N-O-P | q-r | s | t | u-z | ballet dancers
---
I have searched the web for visual, text, and manipulative curriculum support materials - teaching posters, art prints, maps, charts, calendars, books and educational toys featuring famous people, places and events - to help teachers optimize their valuable time and budget.
Browsing the subject areas at NetPosterWorks.com is a learning experience where educators can plan context rich environments while comparing prices, special discounts, framing options and shipping from educational resources.
Thank you for starting your search for inspirational, motivational, and educational posters and learning materials at NetPosterWorks.com. If you need help please contact us.
---