Women ...


alpha list


Activists


Actresses


African-Americans


Artists


Athletes


Dancers


Goddesses


Musicians


Rulers


Scientists


Writers


Women Ecards
---
---
Suffrage,
Votes for Women
Free PDF poster @
SofS Washington
---

---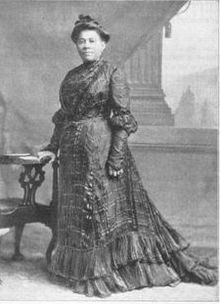 Mary Burnet Talbert
Mary Burnett Talbert
b. 9-17-1866; Oberlin, OH
d. 10-15-1923
Orator, activist, suffragist and reformer Mary Burnett Talbert, called "the best known Colored Woman in the United States," was among the most prominent African Americans of her time.
Upon graduating from Oberlin College she became the assistant principal of Union H.S. in Little Rock, AR, and after marriage moved to Buffalo, NY, where her civil rights activities lead her to becoming one of the founders of the Niagara Movement.
---
Ida Minerva Tarbell
b. 11-5-1857; Erie Co., Pennsylvania
d. 1-6-1944; Bridgeport, CT
Ida Tarbell, known as one of the leading "muckrakers", or investigative journalist, of her day, is best-known for her 1904 book The History of the Standard Oil Company
. She also wrote magazine series and biographies, and was a school teacher.
Ida Tarbell quotes ~
• "Imagination is the only key to the future. Without it none exists – with it all things are possible."
• "Rockefeller and his associates did not build the Standard Oil Co. in the board rooms of Wall Street banks. They fought their way to control by rebate and drawback, bribe and blackmail, espionage and price cutting, by ruthless ... efficiency of organization."
• "Perhaps our national ambition to standardize ourselves has behind it the notion that democracy means standardization. But standardization is the surest way to destroy the initiative, to benumb the creative impulse above all else essential to the vitality and growth of democratic ideals."
• "How defeated and restless the child that is not doing something in which it sees a purpose, a meaning! It is by its self-directed activity that the child, as years pass, finds its work, the thing it wants to do and for which it finally is willing to deny itself pleasure, ease, even sleep and comfort."

---
---
---
Mother Teresa, neé Agnes Gonxha Bojaxhiu
b. 8-27-1910; Macedonia
d. 9-5-1997; Calcutta, India
Agnes Gonxha Bojaxhiu, born in Macedonia in 1910, is known as Mother Teresa, founder of the order of the Missionaries of Charity.
This Roman Catholic congregation of women is dedicated to the very poor, particularly the destitute of India. Her order has opened numerous centers, serving the blind, the aged, the crippled, the lepers, as well as, those who are dying.
When Pope Paul awarded her the Pope John XXIII Peace Prize, he proclaimed her to be "an example and symbol of the discovery...that man is our brother." She was awarded the Nobel Peace Prize in 1979. (bookmark text)
• more Mother Teresa posters
---
Flora Tristan
b. 4-7-1803; Paris
d. 11-14-1844; France
Flora Tristan, a writer and activist, was one of the founders of modern feminism, and a maternal grandmother to post-impressionist painter Paul Gauguin.
---
Sojourner Truth
b. c 1797, NY
d. 11-26-1883; Battle Creek, MI
"I was to travel up and down the land, showing people their sins, and being a sign unto them."
Sojourner Truth was an outspoken advocate of women's rights and black freedom. A riveting speaker and preacher, she made a lasting impression everywhere she spoke. During her legendary life, she challenged injustice wherever she saw it. Sojourner Truth was one of the first people in the country to link the oppression of black slaves with the oppression of women.
• more Sojourner Truth posters
• more Black History Biographical Timeline posters
---
Harriet Tubman-
b. c. 1820; Maryland
d. 3-10-1913; NY
"I had reasoned this out in my mind, there was one of two things I had a right to, liberty or death; if I could not have one, I would have the other."
Harriet Tubman devoted her life to fighting slavery, helping slaves and ex-slaves, and championing the rights of African Americans and women. She served as a conductor on the Underground Railroad, a secret system of people of all races who helped slaves escape to freedom. An extremely brave person, Tubman was called the "Moses of her people."
• more Harriet Tubman posters
• more Black History Biographical Timeline posters
---
previous page | top | next
activist list | a | b | c | d | e | f | g | h | i-j | k | l | m | n-o | p | r | s | T-U-V | w-z >
Pioneers of Women's Rights Movement Posters
---
I have searched the web for visual, text, and manipulative curriculum support materials - teaching posters, art prints, maps, charts, calendars, books and educational toys featuring famous people, places and events - to help teachers optimize their valuable time and budget.
Browsing the subject areas at NetPosterWorks.com is a learning experience where educators can plan context rich environments while comparing prices, special discounts, framing options and shipping from educational resources.
Thank you for starting your search for inspirational, motivational, and educational posters and learning materials at NetPosterWorks.com. If you need help please contact us.
---