HISTORY OF ART,
ART EDUCATION,
TECHNIQUES-

20th C Masterpieces


Abstract Expressionists


African-American Artists


Anatomy in Art


Architects List


Architecture


Art Quotes


Clouds in Art


Colors


Dance in Art


Expressionism


Early Impressionists


Impressionists


Mandalas


Masks


Masterworks of Art


Optical Illusions


Perspective


Pyramids


History of Posters


Illustrators List


Reading in Art


Stars Harlem Ren


Women Artists List

................................

LINKS FOR LEARNING


LESSON PLAN IDEAS


BOOKSHELVES


THIS DAY IN HISTORY


ART QUOTES

---
---
---
art supplies online

---

---
Henri Matisse Posters, Books, Videos, Links for Learning

for classrooms, home schoolers, studio, office and home.
---
history of art > HENRI MATISSE < famous men < social studies
---
Henri Matisse
b. 12-31-1869; Le Chateau, France
d. 11-3-1954
French painter, draughtsman, printmaker, and sculptor Henri Matisse had begun to study law profession as a young man but was interrupted by an attack of appendicitis; fortunately for the world his long convalescence became a time to paint. Matisse later said he had discovered "a kind of paradise" and went on to study art.
He was twenty-two when he arrived in Paris in 1891 to work with Bourgereau at the Beaux-Arts, and with Gustave Moreau. Matisse's early paintings were dark, naturalistic works, but by 1896 he had taken up Neo-Impressionist techniques, working in light color and short strokes. By 1905 he was the leader of the Fauve (Fr. Wild Beasts) movement of painters who worked from nature like the Impressionists before them, using brilliant pure color straight from the tube, to express their reaction to the subject. By 1908 Matisse had embarked on the course that was to influence all further contemporary painting: the possibilities of painting as a decorative and sensuous art.
Matisse was a careful observer and consumate student (remember he started to to be a lawyer). He looked at, and was influenced, by Paul Cezanne expression of depth through color, and Gauguin and Van Gogh's use of color to express emotion. Matisse chose to simplify and distort his images, sacrificing the realistic illusions of depth (perspective) to emphasize surface pattern. Matisse expressed volume by juxtaposing intense colors, varied patterns, and a rhythmic line. The dynamic works are sometimes emotional, sometimes serene, and always more than merely decorative. Matisse was often compared to his younger contemporary Pablo Picasso, though their personalities were opposites and they chose different subject matter.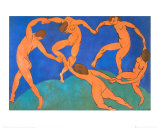 By 1918, Matisse had a worldwide reputation, and besides his paintings and line drawings he was commissioned to do book illustrations, ballet sets, and murals. His most famous mural "La Danse," painted for the Barnes Foundation in Philadelphia (1931-33), achieves its effect by an extreme simplification of figures in a moving pattern of graceful lines.
His last great public work was the complete decoration-stained glass, furniture, murals, and chasubles-for the Dominican Chapel in Vence, a work accomplished in tones of ochre, black, and white. The subdued coloring used in the chapel offers a sharp contrast to the brilliant combinations of color he used in the cut-paper paintings he created in the final years of his life when he could no longer handle a brush.
Matisse died in Vence, in the south of France, on 11-3-1954. Throughout his long and successful career Matisse sought to improve his work, and to find the perfect manner of expression.
---
Henri Matisse Quotes-

"It would be a mistake to ascribe this creative power to an inborn talent. In art, the genius creator is not just a gifted being, but a person who has succeeded in arranging for their appointed end, a complex of activities, of which the work is the outcome. The artist begins with a vision — a creative operation requiring an effort. Creativity takes courage." ~ In Art

• "There is nothing more difficult for a truly creative painter than to paint a rose, because before he can do so he has first to forget all the roses that were ever painted.

• "Expression, for me, does not reside in passions glowing in a human face or manifested by violent movement. The entire arrangement of my picture is expressive; the place occupied by the figures, the empty spaces around them, the proportions, everything has its share."
• "You study, you learn, but you guard the original naiveté. It has to be within you, as desire for drink is within the drunkard or love is within the lover."
• "For my part I have never avoided the influence of others. I would have considered it cowardice and a lack of sincerity toward myself."
• "I have always tried to hide my efforts and wished my works to have the light joyousness of springtime which never lets anyone suspect the labors it has cost me..."
• "Drawing with scissors: To cut to the quick in color reminds me of the direct cutting of sculptors."
• "For me all is in the conception. I must therefore have a clear vision of the whole from the beginning."

---
HENRI MATISSE BOOKS & VIDEO
Matisse by Walter Guadagnini - Henri Matisse's adventures in color and light constitute a landmark in the history of modern art. From his apprenticeship in the studio of Gustave Moreau to the paper cut-outs of the 1950s, the stages of this journey represent a triumph of artistic research and resolution, as well as a shining example of the pictorial quality and theoretical and moral integrity. More than 300 reproductions, accompanying text.
Matisse (Twentieth Century Masters) by Sarah Wilson - The most sensual artist and the greatest colorists of the twentieth century, Henri Matisse was leader of the Fauvism movement in Paris, subsequently engaging with both Cubism and the decorative and spiritual art of Islamic cultures before the first World War, In the 1920s, his "Odalisques" responded to European fantasies of Oriental splendour while during the next decade, classical themes of nymphs, fauns and the dance were re-explored in the splendid and sober Barnes murals, illustrations to Mallarme and James Joyce. Matisse experimented with sculpture, including the increasingly abstract, monumental "Back" series throughout the periods. His near death in 1941 heralded a spiritual rebirth and a re-examination of the roots of French art in his romanesque and medieval heritage. The invention of the paper cut-out, 'cutting directly into colour', lead to monumental decorative compositions by 1950. Matisse's skills as both a decorative artist and a man of profound spirituality were realised in the interior design and the liturgical effects of the Dominican Chapel of the Rosary at Vence. His legacy to artist in Europe ad America was immediate: each subsequent artistic generation has had to measure itself against Matisse's achievement. (from the front flap)
Matisse (Famous Artists) by Antony Mason - Series provides excellent age appropriate material and interesting facts, great visuals, with many ideas for looking at art with youngsters, exercises are easy and successful. Ages 9-12.
Matisse Cut-Paper Design Postcards by Henri Matisse - economical way for teacher's and homeschoolers to display famous artists work.
Matisse Giftwrap Paper: Four Different Designs, Cards Inc. by Henri Matisse
Henri Matisse: Drawing With Scissors (Smart About Art) Ages 4-8
Henri Matisse: Art Ed Book and Kit by Janet Boris
Matisse: Voyages (VHS 1990) traces the development of the artist's brilliantly colored work, from his early canvases, images of dance and music, and odalisques to his cut-out pieces and chapel decorations. Filmmaker Didier Baussy draws on a wealth of paintings, archival footage, photographs, and extracts from Matisse's Notes of a Painter to capture the richness of the artist's legacy and the splendor of his achievements.
---
LINKS FOR LEARNING : HENRI MATISSE
---
---
I have searched the web for visual, text, and manipulative curriculum support materials - teaching posters, art prints, maps, charts, calendars, books and educational toys featuring famous people, places and events - to help teachers optimize their valuable time and budget.
Browsing the subject areas at NetPosterWorks.com is a learning experience where educators can plan context rich environments while comparing prices, special discounts, framing options and shipping from educational resources.
Thank you for starting your search for inspirational, motivational, and educational posters and learning materials at NetPosterWorks.com. If you need help please contact us.
---