Women ...


alpha list


Activists


Actresses


African-Americans


Artists


Athletes


Dancers


Goddesses


Musicians


Rulers


Scientists


Writers


Women Ecards
---

---
Great American Women Educational Poster Series

for social studies classrooms and home schoolers.
---
famous women > GREAT AMERICAN WOMEN POSTERS < social studies
---
Educational poster series celebrating Great American Women images with short biographies include Abigail Adams, Jane Addams, Susan B. Anthony, Rachel Carson, Emily Dickinson, Helen Keller, Sandra Day O'Connor, Georgia O'Keeffe, Eleanor Roosevelt, and Wilma Rudolph from the "Great American Women" series and Shirley Chisholm, Sojourner Truth, Harriet Tubman from the Great Black Americans series.
---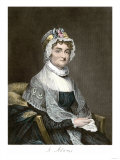 Abigail Adams

Great American Women Poster series image of Abigail Adams not available.
Abigail Adams
b. 11-11-1744; Weymouth, MA
d. 1818
Poster Text: Abigail Adams is the only woman in history who was both the wife and mother of a U.S. President. She was married to John Adams, our second President. And her oldest son, John Quincy Adams, became our nathion's sixth President. But Abigail Adams was more than a wife and mother. She was an extremely intelligent and forceful woman with strong opinions on many subjects.
Abigail was born in Massachusetts in 1744 and was educated at home by her grandmother. In 1764, she married John Adams, one of the best-known lawyers in Boston. When her husband was elected President in 1796, the White House was not yet finished. In 1800, John and Abigail Adams became the first presidential couple to live in the White House. Throughout her long public life, Abigail Adams wrote hundreds of letters. Those letters paint a fascinating portrait of life in early America. They also reveal that Abigail Adams was one of the first to call for equal rights for women. In one letter to her husband she wrote that "all men would be tyrants if they could." Therefore, she insisted, a statement of the rights of women should be included in the Declaration of Independence.
---
Susan B. Anthony
b. 2-15-1820; Adams, MA
d. March 13, 1906

Poster Text: Susan Brownell Anthony was born in Massachusetts in 1820, and she die in 1906. She believed deeply in the young nation's democratic ideals. But because she was a woman, she was never lallowed to exercise the most basic of all democratic rights – the right to vote. For more than half a century, Susan B. Anthony led the women's suffrage movement in the effort to win that right.
Early in life, she became involved in efforts to abolish slavery and in the temperance crusade – the movement to stop the abuse of alcohol. At one temperance meeting, however, Susan was told that "the Sisters were not invited to speak but to listen and learn". Statements like this convinced her to direct her energies into the fight for women's rights.
In 1866 she helped found the American Equal Rights Association. And in 1869, she helped establish the National Woman Suffrage Association. For the rest of her life, she worked for women's rights through organizations like these. In 1872 she was arrested for trying to vote in Rochester, New York. She told the judge, "I believe this is the first instance in which a woman has been arraigned in a criminal court entirely on account of her sex." In 1920, the 19th Amendment to the Constitution was finally ratified. At last it was no longer a "crime" for a woman to vote.
• more Susan B. Anthony posters
---
Great American Women Poster series image of Rachel Carson not available.
Rachel Carson
b. 5-27-1907; Pennsylvania
d. 4-14-1964
Poster Text: More than any other person, Rachel Carson helped make "ecology" a household word. She spent nearly fifteen years of her life working in obscurity for the U.S. Fish and Wildlife Service. But the publication of her books "The Sea Around Us" and "Silent Spring," brought her immediate fame.
Rachel was born in 1907 on a small farm in Pennsylvania, as a young girl, she loved to explore the woods and fields near her home. She once wrote: "I can remember no time when I wasn't interested in the out-of-doors and the whole world of nature." At first, she wanted to be a writer. But a college course in biology inspired her to think about a career in science instead. Eventually, she combined her two loves.
Her first two books, "Under the Sea-Wind" and "The Sea Around Us," describe the oceans and the life they contain. But it was "Silent Spring," published in 1962, that made her famous. The book warned of the dangers of pesticides, which Ms. Carson discovered were killing fish and birds as well as insects. Some scientists said she exaggerated this danger. But most agreed that "Silent Spring" was both accurate and timely. The book lead directly to new laws regulating the use of pesticides, and it aroused millions to a new concern about humanity's growing impact on the natural environment around us.
• more ecology posters
---

Shirley Chisholm

Great American Women Poster series image of Shirley Chisholm not available.
Shirley Chisholm,
b. 11-30-1924; Brooklyn, NY
d. 1-1-2005
Poster Text: "I'm 'fighting Shirley Chisholm,' and I'm unbought and unbossed." That was how U.S. Representative Shirley Chisholm usually introduced herself to crowds. It was a very good description. Shirley Chisholm has always been a fighter, with very strong opinions and very little patience for people who fought the idea of change. Because of this, she has been called difficult and stubborn. But the many children Shirley Chisholm taught in day care classes, and the many people she helped while she was in Congress know her as a warm and caring person who always took the time to listen to them.
Shirley Chisholm was born in 1924 in Brooklyn, New York. Her parents came to America from Barbados, in the West Indies. Even as a child, Shirley was bossy and independent. Her mother often complained that she could not take her eye off Shirley for a minute. Whe she was still only three, Shirley was sent with her sisters to live with her gandmother in Barbados. This allowed her mother to hold a job, and it gave Shirley the chance to be educated in the strict Barbados schools. In 1934, Shirley and her sisters returned to New York. More than anything else, Shirley loved to read. She read many books by or about famous blacks like Harriet Tubman, W.E.B. DuBois, and Adam Clayton Powell, Jr. In college, Shirley slowly began to grow aware of the unfair treatment of blacks, and this made her both angry and determined to work for change.
This desire soon led Shirley into politics. At first, she worked on the campaigns of other black candidates. At the same time, she worked as a teacher. But in 1964, whe was elected to the New York State Assembly. And in November of 1968, she became the first black woman elected to the U.S. House of Representatives. In Congress, Shirley worked to stop discrimination in housing and employment. And she continued to speak out in favor of equality for women. In 1972, she ran for President as a Democrat and lost. But Shirley always said the real reason she ran was not to win, but to draw attention ito the issues she felt strongly about. Shirley Chisholm has always been a pioneer, and her message is simple: Don't listen to those who say, "you can't." Listen to the voice inside yourself that says, "I can." (poster published prior to 2005)
• more Black History posters
• more Shirley Chisholm posters
---
---
Helen Keller
b. 6-27-1880; Tuscumbia, AL
d. 6-1-1968
Poster Text: When she was nineteen month sold, Helen Keller became ill with what doctors called "brain fever." The illness left her blind and deaf – and therefore unable to speak. She was cut off from the world around her. But despite years of struggle and pain, she conquered her tremendous physical disabilities, becoming a shining example of courage to millions of people.
From the time of her illness until she was almost seven years old, Helen could communicate only through strange grunting sounds, laughter, and wild temper tantrums. Then a very special teacher, Anne Sullivan, came into her life. Miss Sullivan's combination of strict discipline and endless patience enabled her to reach young Helen's mind. The movie The Miracle Worker tells the story of the remarkable relationship between Helen Keller and Anne Sullivan. Using a special sign language, Miss Sullivan taught Helen to connect words with objects. Once Helen understood this language, she wanted to know everything. In three years she could read and write in Braille, the written language for the blind, She had a special typewriter built for her on which she did most of her writing.
In 1890, Helen found out about a deaf and blind girl who learned to speak. This gave Helen the determination to learn to talk as well. By age sixteen, Helen could speak well enough to attend college. She graduated with honors from Radcliffe in 1904. As an adult, she traveled extensively and worked on behalf of the blind. She wrote many books and received hundreds of awards for her work. Her autobiography became an inspiration to million of people all over the world.
---
series poster
no longer available.
Sandra Day O'Connor
b. 3-26-1930; Texas
Poster Text: When President Ronald Reagan introduced Sandra Day O'Connor as the newest member of the United States Supreme Court, he called her "a person for all seasons" with "unique qualities of temperament [and] fairness.' Those who knew Sandra Day O'Connor agreed that the President had made a wise choice.
Sandra Day grew up on a sprawling ranch on the Arizona-New Mexico border. She was a bit of a tomboy and loved riding horses and roping steers. She was also an excellent student, and she finished High school when she was only sixteen. She attended Stanford Law School and graduated near the top of her class. Amazingly, one of her fellow students was a young man named William Rehnquist, who would later serve with Justice O'Connor on the Supreme Court. After graduating from Stanford, she married John O'Connor and was elected to the Arizona State Senate. But when she was forced to choose between politics and the law, she chose the law, going to work as a judge.
When Justice Potter Stuart announced his retirement in 1981, President Reagan was determined to keep his campaign promise to appoint a woman to the Court. After a long search, the President chose Sandra Day O'Connor, saying, "She meets in every way the very high standards demanded of all Court appointees."
• Supreme Court Posters
• more Supreme Court Justices
• Bill of Rights Posters
• American Women composite poster
---
---
Eleanor Roosevelt
b. 10-11-1884; New York
d. 11-7-1962
Poster Text: Born in 1884, Eleanor Roosevelt was to become the most active First Lady in the nation's history. Even as a teenager, she felt a deep concern for the less forunate. "I am always questioning, questioning," she wrote in her diary. "I can feel it in me ... that I can do much more than I am doing." Life was soon to give her the chance to do "much more." In 1905, Eleanor married Franklin Delano Roosevelt. When he was stricken with polio in 1921, she began to help him with his work. And after he became President in 1933, she became hes "eyes and ears," traveling everywhere he could not go.
The 1930s were the years of the Great Depression, a time when millions were out of work. When Mrs. Roosevelt was not visiting coal mines or city slums, she was working hard to get help for poor farmers or speaking boldly against racial prejudice. In the early 1940s, during World War Two, she worked tirelessly for world peace. And for the six years after her husband's death in 1945, whe served as a delegate to the United Nations. President Truman once called her "The First lady of the World." She herself summed up her views this way: "You have to do the best you can in this world, and when you have done that, that is all you can do." She remained active in public life until her death in 1962.
---
Wilma Rudolph
b. 6-23-1940; Clarksville, TN
d. 11-12-1994; Brentwood, TN
Poster Text: Wilma Rudolph was born in Tennessee in 1940, the 20th of 22 children. Her parents had to struggle mightily to make ends meet for their large family. Then, at the age of four, Wilma became seriously ill with scarlet fever and pneumonia. The illness left her with a crippled leg, and doctors told here she would never be able to walk normally again. But Wilma refused to give up. She soon recovered completely and grew to be an exceptionally tall and graceful young woman – and in time, she became a star athlete.
Wilma once scored 49 points in a high school basketball game – a school record that still stands! But her greatest triumph came during the 1960 Summer Olympic Games in Rome where she won gold medals in the 100-meter dash, the 200-meter dash, and the 400- meter relay. She set a new Olympic record in the 100 meter-dash with a time of 11 seconds. Wilma Rudolph overcame tremendous odds to become one of the greatest athletes in Olympic history. In 1993, just one year before she died of cancer, she was the first person ever to receive President Clinton's National Sports Awards.
• more Black History posters
• more women athletes posters

---
series poster no
longer available
Sojourner Truth
b. c 1797; New York
d. 11-26-1883; Battle Creek, MI

Poster Text: Sojourner Truth was one of the most brilliant speakers in American history. she was born a slave, but she refused to be ... her harsh and lonely childhood ... She had a deep faith in God, and she ....
Around 1797, a young girl was born to two slaves named ... They lived and worked on a farm in New York state. The young girl was their ... child, and they named her Isabella. Little did they know at the time, this young .... would someday be as famous as Abraham Lincoln! When Isabella was about 11 years old, her family was split up and......... Isabella decided ... become a traveling preacher. She changed her name to Sojourner Truth, because she ...
• more Black History posters
• more Sojourner Truth curriculum enrichment resources
---
---
---
I have searched the web for visual, text, and manipulative curriculum support materials - teaching posters, art prints, maps, charts, calendars, books and educational toys featuring famous people, places and events - to help teachers optimize their valuable time and budget.
Browsing the subject areas at NetPosterWorks.com is a learning experience where educators can plan context rich environments while comparing prices, special discounts, framing options and shipping from educational resources.
Thank you for starting your search for inspirational, motivational, and educational posters and learning materials at NetPosterWorks.com. If you need help please contact us.
---