Famous Scientists & Inventors Educational Posters, Prints & Charts Index

for the life, physical, earth sciences, and social studies classrooms.
---
science posters index > FAMOUS SCIENTIST & INVENTORS < social studies
---
A scientist is a person who:

investigates the natural world by observing a phenomenon in the physical world,

forms an hypothesis or explanation
for the phenomenon


and

tests the hypothesis by means of objective, reproducible experiement.
---
• "It is frequently the tragedy of the great artist, as it is of the great scientist, that he frightens the ordinary man." Loren Eiseley
---
Famous Scientists and Inventors Composite Posters features a timeline with biographical details of country and discovery.
Famous Scientists -

Aristotle, Archimedes, Da Vinci, Copernicus, Brahe | Galileo, Kepler, Cassini, Huygens, Newton, Halley, Celsius | Franklin, Herschel, Volta, Ampere, Silliman, Ohm, Fresnel | Faraday, Darwin, Pasteur, Clausius, Thompson, Maxwell, Mendeleev | Röntgen, Lorentz, Freud, Fleming, Hertz, Tesla, Planck | P. Curie, M. Curie, Rutherford, Marconi, Meitner, Einstein, Fleming | Goddard, Bohr, Hubble, Bush, Heisenberg, Fermi, Brattain | Dirac, McClintock, Bardeen, Oppenheimer, Shockley, Feynman, Hawking.
---
Famous Inventors -

Gutenberg, Leonardo Da Vinci, Tycho Brache, Galileo Galilei, C. Huygens | Issac Newton, Benjamin Franklin, James Watt, J. Mongolfier, Alessandro Volta, Eli Witney | Robert Fulton, Joseph Niepse, G. Stephenson, S. Morse, M. Faraday, W. Talbot | Charles Goodyear, Robert Stephenson, Elias Howe, Cristopher Sholes, Henri Giffard, Nicolaus Otto | Alfred B. Nobel, Gottlieb Daimler, John B. Dunlop, Karl Benz, Wilhelm Röntgen, Alexander Graham Bell | Thomas Edison, George Eastman, Rudolph Diesel, Nicola Tesla, Henry Ford, Wilbur Wright, Orville Wright | G. Marconi, Robert Goddard, Igor Sikorsky, Vladimir Zworykin, Vannever Bush, Robert Watson Watt, Walter Brattain | Chester Carlson, Frank Whittle, John Mauchly, John Bardeen, Erwin W. Muller, William Shockley, J. Presper Eckert.
---
WOMEN IN SCIENCE
Annie Jump Cannon; Astronomer
Rachel Carson; Biologist
Marie Curie; Physicist
M. Goeppert-Mayer; Physicist
Jane Goodall; Primatologist
Dorothy Crowfoot Hodgkin; Physicist
Grace Murray Hopper; Computer pioneer, Mathematician
Hypatia of Alexandria; Mathematician, Scientist
Mae Jemison; Astronaut, Physician, Engineer
Barbara McClintock; Scientist
Margaret Mead; Anthropologist
Maria Mitchell; Astronomer
Ellen Ochoa; Astronaut, Scientist
Ellen Swallow Richards; Chemical Engineer
Florence Sabin; Physician Researcher
Helen Brooke Taussig; Cardiologist
Maria Telkes; Chemist, Solar Engineer
Chien-Shiung Wu; Physicist

---
African Americans Scientists & Inventors
---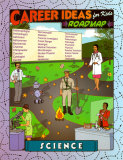 Science Career Ideas for Kids Laminated Poster
no longer available
Anthropologist, Archeologist, Astronaut, Astronomer, Biochemist, Chemist, Chiropractor, Coroner, Cytologist, Dentist, Dermatologist, Dietician, Forensic Investigator, Forest Ranger, Geologist, Medical Technician, Microbiologist, Nuclear Physicist, Nurse, Nutritionist, Oceanographer, Optometrist, Paleontologist, Pathologist, Pharmacist, Physician, Robotics Technician, Science Teacher, Surgeon, Veterinarian.
---
I love experiments. I'm good at asking "Why?" and trying to find answers. I like learning about stars, plants and animals, rocks and fossils, robots and computers. If I work hard and follow my dream, I'll be part of a major scientific research teams. I have the power to be somebody!
Related careers: Engineer / Antropologist / Lab Technician / Chemist / Oceanographer
---
---
I have searched the web for visual, text, and manipulative curriculum support materials - teaching posters, art prints, maps, charts, calendars, books and educational toys featuring famous people, places and events - to help teachers optimize their valuable time and budget.
Browsing the subject areas at NetPosterWorks.com is a learning experience where educators can plan context rich environments while comparing prices, special discounts, framing options and shipping from educational resources.
Thank you for starting your search for inspirational, motivational, and educational posters and learning materials at NetPosterWorks.com. If you need help please contact us.
---