BLACK HISTORY
POSTER INDEX

Athletes


Great Af-Am Artists


African American Writers


Civil Rights


Great Black Americans


Stars Harlem Renaissance


Continent of Africa


Great Black Innovators


Kwanzaa


Black Military History


Black History Bio Timelines


Musicians & Entertainers


Outstanding Cont Af-Ams


Inspirational Quotations


Poetry & Quotations


Underground Railroad


notable men-list


notable women-list


Black History eCards

---
---
---
---
---

---
Great Black Innovators

for the social studies, history, and language arts classrooms.
---
history > Black History > GREAT BLACK INNOVATORS & INVENTORS < inventions < social studies
---
Black History Posters of African American innovators and inventors
Benjamin Banneker
Mary McLeod Bethune
Guion Bluford
George Washington Carver
Charles Drew


Katherine Dunham
Sarah Goode
Bernard Harris
Matthew Henson
Percy Lavon Julian
Lewis Latimer


Jan Ernst Matzeliger
Elijah McCoy
Garrett Morgan
Madame C.J. Walker
Granville T. Woods

---
Benjamin Banneker
b. 11-9-1731; Baltimore Co., MD
d. 10-9-1806
The son and grandson of former slaves, Benjamin Banneker, known as the "Sable Astronomer", compiled the ephemeris (information table) for annual almanacs published 1792 through 1797, predicting solar and lunar eclipses.
Banneker also provided assistance in the planning of the Federal District, which is now Washington, DC, by making sure the astronomical clock was keeping accurate time.
---
Mary McLeod Bethune
b. 7-10-1875; Mayesville, SC
d. 5-18-1955; Daytona Beach, FL

Mary McLeod Bethune, daughter of former slaves, was a tireless educator best remembered as a the founder of the Daytona Educational and Industrial Training School for Negro Girls in 1904. The school evolved into the Bethune-Cookman University.
Mary McLeod Bethune quotes ~
• "Invest in the human soul. Who knows, it might be a diamond in the rough."
• "If we accept and acquiesce in the face of discrimination, we accept the responsibility ourselves. We should, therefore, protest openly everything . . . that smacks of discrimination or slander."
• "Cease to be a drudge, seek to be an artist."
• "The whole world opened to me when I learned to read."
• "The true worth of a race must be measured by the character of its womanhood."
• "Next to God we are indebted to women, first for life itself, and then for making it worth living."

---
Guion Bluford
b. 11-22-1942; Philadelphia, PA

Astronaut and engineer Guion Bluford is the first African American in space, participating in four Space Shuttle flights between 1983 and 1992.
FYI ~ Bluford was the second person of African descent in space. The first was Arnaldo Tamayo Mendez of Cuba, as part of the Soviet cosmonaut program, in 1980.
---
---
---
Katherine Dunham
b. 6-22-1909; Joliet, IL
d. 5-21-2006; NYC
Katherine Dunham is a noted dancer and choreographer who brought the dance styles of black people of the Caribbean and the United States to the attention of America at large. Born in Chicago, she attended the university there and majored in anthropology. She did a year of field work in the west Indies. This helped give her the insight she needed to develop innovative dance forms expressing Caribbean cultural styles. She choreographed and performed in a number of stage productions and films during the 1930s and '40s. She also founded the first black dance troupe – the Katherine Dunham Dance Company. But she is most proud of the Perfoming Arts Training Center, which she founded in East St. Louis, Illinois, in 1967 – and where, in her later years, she continues to touch and offer her guidance. This oasis in the middle of the poverty-stricken city has offered hope and a way out for countless numbers of troubled youth. It is here where her legacy continues, and where many young lives are changed. (published before 2006)
• women and music posters
• Katherine Dunham books at Amazon.com
• Eartha Kitt began her career in the Katherine Dunham company.
---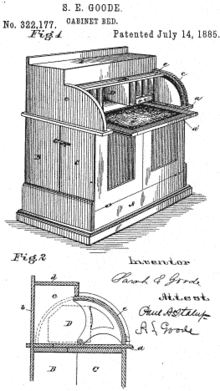 Illustration of Sarah E. Goode's Patent Application
Sarah E. Goode
b. 1850; Joliet, IL
d. 5-21-2006; NYC
Sarah E. Goode, born a slave, was the first African American woman to receive a United States patent.
Her invention was a folding cabinet bed which provided people who lived in small spaces with furniture that filled two needs. When the bed was folded up, it looked like a desk. The desk was fully functional, with spaces for storage. She received a patent for it on July 14, 1885.
---
---
Matthew Henson
b. 8-8-1866; Maryland
d. 3-9-1955
In April 1909, Matthew Henson and Lt. Robert Peary became the first people to reach the North Pole. Henson was first hired by Peary in 1887 as a servant on an expedition. He eventually rose to the rank of field assistant. Four years later, in 1891, Henson and Peary set out on the first of several trips to the cold, forbidding ice of the Artic. On their sixth and final trip, they finally made it to the North Pole. Following their triumph, Peary was made an admiral and received worldwide acclaim, while Henson was virtually ignored. Six years later, Henson was working as an attendant in a parking garage. It was only in 1954, a year before he died, that he was honored by President Dwight Eisenhower in a White House ceremony. Matthew Henson is buried in Arlington National Cemetery.
---
Percy Lavon Julian
b. 4-11-1899; Montgomery, AL
d. 4-19-1975; Illinois
Research chemist Percy Lavon Julian was a pioneer in the chemical synthesis of medicinal drugs from plants and during his lifetime he received more than 130 chemical patents.
He was one of the first African-Americans to earn a doctorate in chemistry (after St. Elmo Brady and Edward M. A. Chandler) and he also taught chemistry at the university level.
---
Lewis Latimer
b. 9-4-1848; Chelsea, MA
d. 12-11-1928; Flushing, NY
Lewis Latimer, the son of escaped slaves George and Rebecca Latimer, served in the US Navy between 1863-65, then taking a job as an office boy in a patent law firm.
Latimer taught himself mechanical drawing and was soon promoted to chief draftsman. Before Alexander Graham Bell hired him to do the drawings for the patent of the telephone (1876) Latimer had co-patented an improved toilet system for railroad cars.
While working at the U.S. Electric Lighting company, a rival of Thomas Edison, Latimer and a co-worker developed a light bulb that was less expensive to produce and lasted much longer than Edison's light bulbs. Later he worked for Edison, first as an employee and later as an expert witness defending Edison's patents in court.
Latimer is called a Renaissance man - an inventor, artist, musican, poet and working on the the civil rights of black Americans.
---
Jan Ernst Matzeliger
b. 9-15-1852; Paramaribo (formerly Dutch Guyana, now Suriname)
d. 8-24-1889; Lynn, MA
Jan Ernst Matzeliger created a machine that could attach the upper part of a shoe to the sole, making as many as 700 pairs of shoes a day compared to the 50 pair an individual crafts person could make a day.
---
Elijah McCoy
b. 5-2-1843; Canada
d. 10-10-1929; Detroit, Michigan
Elijah McCoy, the son of slaves who escaped from Kentucky to Canada on the Underground Railroad, studied mechanical engineering in Scotland.
On return to the US, McCoy worked as a fireman and oiler for the Michigan Central Railroad, and in a home machine shop worked on improvements and inventions that included a folding ironing board and a sprinkler system. He received his first of nearly sixty patents in 1872 for "Improvement in Lubricators for Steam-Engines".
---
Garrett Morgan
b. 3-4-1877; Paris, Kentucky
d. 8-27-1963; Cleveland, OH
Garrett Morgan devoted his life to creating things that made the lives of other people safer and more convenient.
His first significant invention, the Morgan Safety Hood, or "Breathing Device" as he called it, was originally worn mainly by firefighters, but made national news as the "gas mask" used to rescue several men trapped during an explosion in a tunnel beneath Lake Erie.
Morgan's second major invention came about after seeing a collision at an intersection. His stop-and-go signal with a stop for all directions - a precursor to our red, yellow, green light traffic signals, halted traffic in all directions - clearing the crossing point for safe passage.
---
Madame C.J. Walker
b. 12-23-1867; Delta, Louisiana
d. 5-25-1919; Irvington, NY
Madame C. J. Walker, born Sarah Breedlove, was the daughter of ex-slaves. Yet, though she was born into poverty in 1867, she became a leading African American businessperson and the richest black woman of her time. Her childhood in rural Louisiana consisted of long hours in the cotton fields. Her family lived in a one-room shack. She married at age 14, and six years later her busband died of unknown causes. She eventually made her way to St. Louis. There, while experimenting with various chemicals, she discovered a mixture that supposedly stimulated hair growth. She began going door to door to well her new product. She also popularized the use of the modern hot comb, which allowed black women to straighten and style their thick hair. By combining her "Wonderful Hair Grower" and hot comb, she soon made a name for herself. She married a newspaperman named C. J. Walker. Although the marriage did not last, she chose to keep his name and was known from then on as Madam C.J. Walker. In the early 1900s, few avenues of opportunity were open to women. One that was, however, was women's cosmetics, and Madam Walker went into it with gusto. Her company grew rapidly. Her accomplishment are all the more remarkable because, as a black woman, she had to triumph over both racism and sexism.
• Harlem Renaissance Map poster
• Madame C.J. Walker-Amazon.com
---
Granville T. Woods
b. 4-23-1856; Columbus, OH
d. 1-30-1910; NYC, NY (stroke)
Most of Granville T. Woods more than 50 patents were related to transportation and communication. He is sometimes referred to as the "black Edison".
---
---
I have searched the web for visual, text, and manipulative curriculum support materials - teaching posters, art prints, maps, charts, calendars, books and educational toys featuring famous people, places and events - to help teachers optimize their valuable time and budget.
Browsing the subject areas at NetPosterWorks.com is a learning experience where educators can plan context rich environments while comparing prices, special discounts, framing options and shipping from educational resources.
Thank you for starting your search for inspirational, motivational, and educational posters and learning materials at NetPosterWorks.com. If you need help please contact us.
---