Spices Educational Posters, Prints & Charts
art & illustrations for kitchens, restaurants and classrooms.
---
social studies > food > SPICES < botany < biology < science
---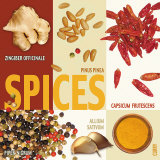 Spices, valuable trade items throughout human history, are the dried seed, fruit, root, bark or resin used to flavor and/or preserve food, in medicine, in religious ceremonies, and for personal adornment, as in ingredient in cosmetics and perfume.
Did you know that spices are antimicrobial and that may be why spicy foods evolved in cultures where food spoilage due to climate? A report from Cornell University said- "Countries with hotter climates used spices more frequently than countries with cooler climates. Indeed, in hot countries nearly every meat-based recipe calls for at least one spice, and most include many spices, especially the potent spices, whereas in cooler counties substantial fractions of dishes are prepared without spices, or with just a few."
---
---
---
Saffron is the most expensive spice in the world: it takes an estimated 210,000 stigmas of a crocus bloom (at three per flower) to make one pound of saffron powder.
• Saffron
---
---
Pepper, a flowering vine in the family Piperaceae, is cultivated for its fruit, which is usually dried and used as a spice and seasoning.
Black pepper is native to India and has been used since 2000 BC; in 2008 Vietnam produced over 30% of the pepper crop.
Cayenne pepper is from the fruit of plants from the genus Capsicum, members of the nightshade family, Solanaceae. The Tipi Indians of northeastern South America provided the word cayenne, Columbus called it pepper because they reminded him of the "hot" taste of pepper, a valuable spice in Europe. FYI ~ the capital city of French Guiana is named Cayenne.
---
Vanilla, a flavoring derived from orchids of the genus Vanilla native to Mexico was originally cultivated by Pre-Columbian Mesoamerican peoples. Vanilla was introduced to Europe, along with chocolate, by Spanish conquistador Hernán Cortés, in the 1520s.
Because the vanilla orchid grew on the tlilxochitl vine and is only naturally pollinated by the local species of Melipona bee, attempts to cultivate the vanilla plant outside Mexico and Central America failed. Eventually the symbiotic relationship was discovered and a hand pollination technique developed so vanilla is cultivated globally. Though vanilla is available to be included in products from food to perfume, it is second only to saffron in expense.
Etymologically, vanilla derives from the Spanish word "vainilla", little pod.
---
Ginger is a tuber, the underground stem of the ginger plant, Zingiber officinale. Ginger originated in Asia and spread to India, West Africa and the Caribbean.
Ginger is used as an ingredient in dishes such as candy, gingerbread and ginger snap cookies, and in medicines for ailments ranging from digestion to arthritis.
---
---
The Spice Islands, most commonly referred to as the Maluku Islands in what is now Indonesia, once were the only source of mace and nutmeg, and the source of global conflict. Once seeds and plants had been smuggled away from the islands, the monoply ended, making the spices more affordable.
---
Spices mentioned in the Bible include those brought as gifts for the baby Jesus by the Magi (Matthew 2:11). Frankincense, an incense also known as olibanum, is derived from the resin of the Boswellia tree, and myrhh, also a tree resin, was offered to Jesus on the cross.

FYI ~ The name Frankinscence finds its origins in the Crusades - the Crusaders from western Europe, who were known as Franks to the people of the East, reintroduced the incense to Europe.
---
---
I have searched the web for visual, text, and manipulative curriculum support materials - teaching posters, art prints, maps, charts, calendars, books and educational toys featuring famous people, places and events - to help teachers optimize their valuable time and budget.
Browsing the subject areas at NetPosterWorks.com is a learning experience where educators can plan context rich environments while comparing prices, special discounts, framing options and shipping from educational resources.
Thank you for starting your search for inspirational, motivational, and educational posters and learning materials at NetPosterWorks.com. If you need help please contact us.