BLACK HISTORY
POSTER INDEX

Athletes


Great Af-Am Artists


African American Writers


Civil Rights


Great Black Americans


Stars Harlem Renaissance


Continent of Africa


Great Black Innovators


Kwanzaa


Black Military History


Black History Bio Timelines


Musicians & Entertainers


Outstanding Cont Af-Ams


Poetry & Quotations


Underground Railroad


notable men-list


notable women-list


Black History eCards

---
---
Suffrage,
Votes for Women
Free PDF poster @
SofS Washington
---

---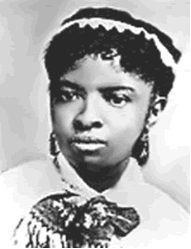 Mary Eliza Mahoney
Mary Eliza Mahoney
b. 5-7-1845; Dorchester, MA
d. 1-4-1926; (breast cancer)
Mary Eliza Mahoney worked for fifteen years at the New England Hospital for Women and Children as a cook, janitor, washerwoman and unofficial nurse's assistant before being admitted as a student into the nursing program, and becoming the first African American registered nurse in the U.S. In 1908, she co-founded the National Association of Colored Graduate Nurses (NACGN) with Adah B. Thoms.
---
Bridget "Biddy" Mason
b. 8-15-1818; Hancock County, GA
d. 1-15-1891; Los Angeles, CA
"Biddy" Mason, born into slavery, was a skilled nurse and midwife. She is best remembered for walking the two thousand miles she traveled with her owners, eventually getting to the free state of California. She won her freedom in a Los Angeles courtroom in 1856 - even though the law did not allow people of color to speak in open court. As a free woman she became fluent in Spanish, saved her money, and helped anyone who was in need. She also bought property and became a wealthy woman. In 1872 she founded the First African Methodist Episcopal Church of Los Angeles. And because the public school was not open to blacks, she provided the money to start the city's first school for African-Americans. (based on book description)
---
---
Toni Morrison
b. 2-18-1931; Lorain, OH

Opera singer Leontyne Price once said of her friend Toni Morrison: "She paints pictures with words. And reading or hearing those words is like listening to music." The idea of comparing a book to a piece of music man seem stange at first. But people have always talked about Toni Morrison's unique and beautiful "voice." By this they mean her almost magical way of making words on the printed page come alive in the reader's imagination, so that it sometimes seems as though she or her characters are speaking directly to you.When she was attending Howard University, Toni met the man she would later marry, a Jamaican student named Harold Morrison. The marriage ended in 1964, leaving her with two sons to raise on her own. She took a job as a textbook editor in New York, and began work on her first novel, "The Bluest Eye." That was followed by "Sula" – a tragic story of two black women in Ohio. But it was her third novel, "Song of Solomon," that first brought Toni Morrison widespread auccess and acclaim. In 1988, she won the Pulitzer Prize for her novel "Beloved." And in 1993, she became the first African American to receive literature's highest award: the Nobel Prize. Toni Morrison's books have been praised by readers and critics for their beautiful language, vivid descriptions, and unusual combination of magic, superstition and realism. Her stories tell of the ancient struggles between men and women, between blacks and whites, between hatred and love. But most of all they tell about people – people whose lives had for too long been overlooked, and whose stories had for too many years been left untold. ...
• more Toni Morrison posters
• more Outstanding Contemporary African Americans posters
• Banned Books and Authors
---
Anna Pauline "Pauli" Murray
b. 11-20-1910; Baltimore, MD, raised in NC
d. 7-1-1985; Pittsburgh, PA
The Reverend Dr. Pauli Murray was the first black woman Espcopalian priest in America as well as a lawyer and civil rights activist. Murray was also a founder of the National Oraganization for Women (NOW), and with Betty Friedan drafted NOW's State of Purpose in 1966.
Murray was also one of the founders of the Congress of Racial Equality (CORE) (1942) and the NAACP used her arguments while arguing the Brown v. Board of Education (1954) case.
• Pauli Murray at Amazon
---
previous page | top | next
a | b | c | d | e | f | g | h | i-j | k | l | M | n-o | p | r | s | t-u-v | w-z
Pioneers of Women's Rights Movement Posters
---
I have searched the web for visual, text, and manipulative curriculum support materials - teaching posters, art prints, maps, charts, calendars, books and educational toys featuring famous people, places and events - to help teachers optimize their valuable time and budget.
Browsing the subject areas at NetPosterWorks.com is a learning experience where educators can plan context rich environments while comparing prices, special discounts, framing options and shipping from educational resources.
Thank you for starting your search for inspirational, motivational, and educational posters and learning materials at NetPosterWorks.com. If you need help please contact us.
---