Nat. Am. Cultures


Nat. Am. Ethnology


Nat. Am. Dance


Contemp. Nat Am


Edward S. Curtis Photos


Aztec Culture


Inca Culture


Mayan Culture


Sioux Nation


Notable Native Americans

................................

LINKS FOR LEARNING


LESSON PLAN IDEAS


BOOKSHELVES


THIS DAY IN HISTORY

---
---

---
Wilma Mankiller
b. 11-18-1945; Tahlequah, OK
d. 4-6-2010
In the Cherokee language, Mankiller means someone who protects the village – a defender of the people. For Wilma Mankiller, chief of the Cherokees from 1985 to 1995, it is a fitting name.
Wilma was born in Tahlequah, Oklahoma, in 1945. Even though her family and the other people around her were poor, she was happy because she was surrounded by her Cherokee culture. When Wilma was 12, the U.S. government uprooted her family to San Francisco. The idea was to help Native Americans blend in with white society. But big city life was a shock to her family and they struggled to hold on to their Cherokee heritage. As a young adult, Ms. Mankiller grew interested in Indian politics and she eventually returned to the land where she was born.
In 1985, Ms. Mankiller became the first woman ever to serve as Principal chief of the Cherokees. Although at first some people did not want a woman for chief, they changed their minds when they saw how much she was helping the tribe. She brought new jobs to the area and helped poor women start businesses. She also improved the Cherokee court system and opened medical clinics. Chief Mankiller chose not to run for reelection in 1995, but she has stayed active in politics, speaking out for women's rights and the environment, as well as Native American issues. In 1998, Ms. Mankiller was awarded the Presidential Medal of Freedom – the nation's highest civilian honor.
• Women Who Dared II poster, Mankiller
• Every Day is a Good Day: Reflections of
Contemporary Indigenous Women
---
Charlotte Black Elk
b. 1951; Pine Ridge Reservation
In the Lakota Sioux religion, the Black Hills are the most sacred of all places. Hear those hills, on the Pine Ridge Reservation, lives Charlotte Black Elk, the great granddaughter of the famous Lakota spiritual leader Nicholas Black Elk.
Charlotte was born on the reservation in 1951. She spoke only the Lakota language until first grade. But when she started school her family encouraged her to learn English. "We were told to learn it better than white people," she says, "so that no one cold ever lie to us in a language we didn't understand."
Ms. Black Elk's tribe has been lied to before. The U.S. government had promised the Sioux that their sacred lands, the Black Hills, would never be taken away. But in 1874, gold was discovered in the Black Hills, and the government broke its promise and took control of the area. Today, Ms. Black Elk is campaigning to get these lands returned to her tribe. She is working to educate people about the Black Hills, their importance to the Sioux, and the treaties the U.S. government broke. To keep her heritage alive, she has passed her Lakota language and religion on to the children. "I was told my generation would make its own choices to remain Lakota or choose to walk away." she has written. "I'm confident of our survival as a people."
• Black Elk Speaks: Being the Life Story of a Holy Man of the Oglala Sioux
---
Ben Nighthorse Campbell
b. 4-13-1933; Auburn, CA

Ben Nighthorse Campbell was a U.S. Senator from Colorado from 1993 until 2005. He was for a time the only Native American serving in the U.S. Congress. Campbell was the third Native American to serve in the U.S. House of Representatives and the second Native American (after Charles Curtis R-Kansas) to serve in the U.S. Senate. Campbell also serves as one of forty-four members of the Council of Chiefs of the Northern Cheyenne Indian Tribe. FYI - Campbell competed in judo at the 1964 Summer Olympics in Tokyo. (Source: Wikipedia)
---
Maria Tallchief
b. 1-24-1925, Fairfax, OK
d. 4-11-2013; Chicago, IL
Newsweek magazine once called Maria Tallchief "the finest American-born classic ballerina the twentieth century has produced." She was the first American ballerina to gain international fame. Her lightning speed and the precision of her dancing captured the world's attention.
Maria was born on Oklahoma's Osage Indian Reservation in 1925 to an Osage father and an Irish-Scottish mother. When she was three, her mother recognized her musical talents and arranged piano and dance lessons for her. As a child, Maria practiced both piano and dance for hours every day. She eventually chose to concentrate on ballet, and by age 15, she was dancing solo roles at the legendary Hollywood Bowl. That was only the beginning. In 1927, she joined the New York City Ballet and was a principal dancer there for many years. She is especially remembered for her role in Igor Stravinsky's "Firebird" in 1949, which established her international reputation. as a Native American, she not only sparked respect for Americans in the ballet world, she also broke through racial barriers in a field dominated by white Europeans.
In 1953, President Dwight Eisenhower presented Ms. Tallchief with the "Woman of the Year Award." The Osage Tribal Council named her "Wa-Xthe-Thorba" or "Woman of Two Standards" for her achievements in both the Osage world and the world of other cultures. she retired from performing in 1966, but remains active in the arts, serving today as director of ballet for the Lyric Opera of Chicago. (see publication date)
---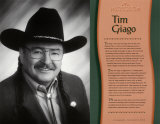 Tom Giago
Contemporary Native Americans

image no
longer available
Tim Giago
b. 1934, Pine Ridge Reservation, SD

Tim Giago's voice rises with anger when he talks of his childhood. Born in 1934 on the Pine Ridge Reservation in South Dakota, he grew up in a time when Native American culture was strongly discouraged. At age six, Tim went to live at a boarding school of Indians. Students' heads were shaved so they could not hae traditional tribal hairstyles, and anyone caught speaking a tribal language was beaten. "It was like a prison," he says. He joined the U.S. Navy at 17, and completed high school while serving in Japan. He later earned a degree in business from the University of Nevada.
Today, Mr. Giago, an Oglala Sioux, is a leading Native American journalist, and he writes to help people understand the struggles Native Amerians have faced. He began his writing career as a reporter for a South Dakota newspaper in 1981. Mr. Giago founded the Lakota Times, an Indian newspaper for the people of the Pine Ridge Reservation. The paper was so successful that Mr. Giago expanded its coverage and renamed it Indian Country Today. Today it is America's largest Indian-owned newspaper. In 1998, Mr. Giago sold Indian Country Today to the Oneida Nation, although he continues to write for the newspaper.
Mr. Giago has also written books [Children Left Behind: The Dark Legacy of Indian Mission Boarding Schools], one of them about his experiences at boarding school. He believes that his writing has helped him deal with his own childhood and has also helped others understand native American culture.
...
Tim Giago's Sioux name, Nanwica Keiji means,
"He Who Stands Up For You." - more journalism resources at journalism.org
---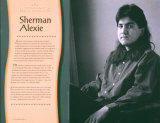 Sherman Alexie,
Contemporary Native Americans Poster

image no
longer available
Sherman Alexie
b. 10-7-1966; Spokane, WA

Writer, poet, filmmaker, and occasional comedian Sherman Alexie draws on his experiences as a Native American from the Spokane/Coeur d'Alene Tribes.
• more Authors posters
---
---
I have searched the web for visual, text, and manipulative curriculum support materials - teaching posters, art prints, maps, charts, calendars, books and educational toys featuring famous people, places and events - to help teachers optimize their valuable time and budget.
Browsing the subject areas at NetPosterWorks.com is a learning experience where educators can plan context rich environments while comparing prices, special discounts, framing options and shipping from educational resources.
Thank you for starting your search for inspirational, motivational, and educational posters and learning materials at NetPosterWorks.com. If you need help please contact us.
---