Women ...


alpha list


Activists


Actresses


African-Americans


Artists


Athletes


Dancers


Goddesses


Musicians


Rulers


Scientists


Writers


Women Ecards
---
---
An Old Favorite!
Authors Card Game
---

---
---
Women Writers Posters & Prints, pg 1/10

for the language arts, social studies, history, art and science classrooms and home schoolers.
literature > Women Writers Posters 1 | 2 | 3 | 4 | 5 | 6 | 7 | 8 | 9 | 10 < famous women alphabetical list < social studies
---
a | b | c | d | e | f | g | h | i-j | k | l | m | n | o | p-q | r | s | t | u-v | w | x-y-z
Notable women writers, authors, novelists, journalists, dramatists, poets: Abigail Adams, Jane Addams, Countess Maria D'Agoult (pen name Daniel Stern), Louisa May Alcott, Isabel Allende, Julia Alverez, Maya Angelou, Bettina von Arnim, Margot Asquith, Jane Austen; posters, prints, books, short bio info, links.
Abigail Adams
Countess Maria D'Agoult
Louisa May Alcott
Isabel Allende
Julia Alvarez
Maya Angelou
Susan B. Anthony


Bettina von Arnim
Daisy Ashford
Margot Asquith
xMary Astell
Gertrude Atherton
Countess d'Aulnoy
Jane Austen

Abigail Adams
b. 11-11-1744; Weymouth, MA
d. 10-28-1818
Abigail Adams, the only woman in history who was both the wife and mother of a U.S. President, was an extremely intelligent and forceful woman with strong opinions on many subjects. ... In one letter to her husband, John Adams, she wrote that "all men would be tyrants if they could." Therefore, she insisted, a statement of the rights of women should be included in the Declaration of Independence.
• more Abigail Adams posters
• more Great American Women posters
• Revolutionary War posters

---
Countess Maria D'Agoult
b. 12-31-1805; Germany
d. 3-5-1876; Paris
Countess Marie D'Agoult, pen name Daniel Stern, had three children with composer Franz Liszt, though they never married. Their second daughter, Cosima, became the second wife of composer Richard Wagner.
---
Louisa May Alcott
b. 11-29-1832; Germantown, PA
d. 3-6-1888; Boston
"I hate to think I've got to grow up, and be Miss March, and wear long gowns, and look as prim as a China-aster! It's bad enough to be a girl, anyway, when I like boys' games and work and manners!."
---
Isabel Allende
b. 8-2-1942; Peru

Poster Text: "I was born in the back room of a shadowy house, and grew up amidst ancient furniture, books in Latin, and human mummies, but none of those things made me melancholy, because I came into the world with a breath of the jungle in my memory." Eva Luna
Isabel Allende was a prominent 28-year-old journalist and humorist in Chile when her uncle, Salvador Allende, was elected the first socialist president in that nation's history. When his government was overthrown by General Augusto Pinochet, Allende and her family found that they were not welcome in Chile anymore, and thy moved to Venezuela. There she felt that she wanted to say something more about her homeland, but she didn't know how to do it. When she heard that her 99 year-old grandfather was dying back in Chile, she started to write him a letter. That letter grew and grew until it bacame the manuscript for her first novel, The House of the Spirits, which was published in Spanish in 1982. ...
• more Isabel Allende posters
• more Latino Writers posters
• South America posters
---
Julia Alvarez
b. 3-27-1950, NYC
"Yolanda gazes at the cake... As the singing draws to a close, the cousins urge her to make a wish. She leans forward and shuts her eyes. There is so much she wants, it is hard to single out one wish. There have been too many stops on the road of the last twenty-nine years since her family left this island behind... Let this turn out to be my home, Yolanda wishes." How the Garcia Girls Lost Their Accents
• more Julia Alvarez posters
• more Great Contemporary Latinos

---
---
susan b anthony
---
Bettina von Arnim,
German Writer
b. 4-4-1785; Frankfurt
d. 1-20-1859; Berlin
Though best known for her friendships with famous men such as Goethe, Schumann, Liszt, and Brahms, Bettina von Arnim was a writer, musician, and artist exemplifing the Romantic era. It is possible she was the "Immortal Beloved" of Beethoven.
---
Daisy Ashford
née Margaret Mary Julia Ashford
b. 4-7-1881; England
d. 1-15-1972
Daisy Ashford is most remembered for her The Young Visiters (sic), written when she was nine years old. The story, about upper-class, late 19th century society in Victorian England, was published in 1919 after she found the notebook tucked away in a drawer. ... FYI - Miss Ashford had dictated her first story to her father when she was four.
---
Margot Asquith
b. 2-4-1864; Scotland
d. 7-28-1945
Margot Asquith,
(née Emma Alice Margaret Tennant), second wife of H H Asquith (British PM 1908), Married 1894

Margot Asquith quote:
• "Symbols are the imaginative signposts of life. "
Mary Astell
b. 11-12-1666; Newcastle upon Tyne, England
d. 5-11-1731; breast cancer
Considered the first English feminist, author Mary Astell advocated an education for women that would extend their choices beyond being only either a mother, or a nun.
Astell's best known books, A Serious Proposal to the Ladies, for the Advancement of Their True and Greatest Interest (1694) and A Serious Proposal, Part II (1697), were outlines of a new type of institution, a protected environment, for women to assist in providing women with both religious and secular education.
Mary Astell quotes ~
• "If all Men are born free, how is it that all Women are born Slaves?"
• "Women are not so well united as to form an Insurrection. They are for the most part wise enough to love their chains, and to discern how becomingly they fit."

---
Gertrude Franklin Horn Atherton
b. 10-30-1857; San Francisco
d. 6-14-1948
Gertrude Atherton is most remembered for her short stories and novels on the history of California.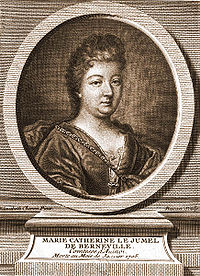 Marie-Catherine,
Countess d'Aulnoy
no commerically
available image
Marie-Catherine, Countess d'Aulnoy
b. 1650/51; France
d. 1-4-1705
Madame d'Aulnoy, remembered today as the originator of the term "fairy tale", recorded stories as they may have been told in her famous literary salon.
---
Jane Austen
b. 12-16-1775; England
d. 7-18-1817

Mr. Darcy had at first scarcely allowed her to be pretty; he had looked at her without admiration at the ball, and when thay next met, he looked at her only to criticise. But no sooner had he made it clear to himself and his friends that she had hardly a good feature in her face, than he began to find it was rendered uncommonly intelligent by the beautiful expression of her dark eyes. — Pride and Prejudice
I have searched the web for visual, text, and manipulative curriculum support materials - teaching posters, art prints, maps, charts, calendars, books and educational toys featuring famous people, places and events - to help teachers optimize their valuable time and budget.
Browsing the subject areas at NetPosterWorks.com is a learning experience where educators can plan context rich environments while comparing prices, special discounts, framing options and shipping from educational resources.
Thank you for starting your search for inspirational, motivational, and educational posters and learning materials at NetPosterWorks.com. If you need help please contact us.
---