LITERATURE & LANGUAGE ARTS
CLASSROOM POSTERS INDEX -


19thC American Authors


20thC American Authors


Alphabets


Am. Authors Timelines


Authors & Writers - alpha list


Banned Books


Great British Writers


Children's Literature


Classic Children's Authors


Fairy Tales & Folklore


Fireside Poets


Grammar


Great Thinker Quotes


Historic Reading Posters


History Through Literature


Latino Writers


Literature Drama


Literary Elements


Middle Ages Literature


Nursery Rhymes


Poetry Forms


Poetry & Quotes


Prose


Reading in Art


Reading Motivation


Shakespeare


Voices of Diversity


Women Writers


Writers/Changed the World

................................

LINKS FOR LEARNING


LESSON PLAN IDEAS


BOOKSHELVES


THIS DAY IN HISTORY

---
---
Nobel Writers
on Writing

---
An Old Favorite!
Authors Card Game
---

---
Thomas Wentworth Higginson
b. 12-22-1823; Cambridge, MA
d. 5-9-1911; Cambridge
Author, minister, and Civil War soldier, Thomas Wentworth Higginson, was also a supporter of abolitionist John Brown and the literary mentor of Emily Dickinson.
Thomas Wentworth Higginson quotes ~
• "Originality is simply a pair of fresh eyes."
• "When a thought takes one's breath away, a grammar lesson seems an impertinence."
• "Great men are rarely isolated mountain peaks; they are the summits of ranges."
• "The test of an author is not to be found merely in the number of his phrases that pass current in the corner of newspapers... but in the number of passages that have really taken root in younger minds."

---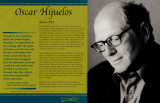 sorry, no
longer available
Oscar Hijuelos
b. 8-24-1951; New York City, NY
Oscar Hijuelos is the first Hispanic to win a Pulitzer Prize for Fiction, The Mambo Kings Play Songs of Love, 1990.
"Though he first sat down before the piano to play that piece, at eight-thiry in the eveining, after the moon had risen over the east and the stars had begun their orbits across the sky, he could not have imagined that this little piece of music would not only outlast him, but that it would seep through time, like a ghost, and reach inmunnerable hearts and souls." A Single... Melody (from when the world was good)
• more Latinos posters
---
---
Chester Himes
b. 7-29-1909; Jefferson City, Missouri
d. 11-12-1984; Moraira, Spain
Chester Himes is best remembered as a writer of "hardboiled" crime and detective fiction.
He left Hollywood screen writng (was fired by racist Jack Warner) and moved to France where he was awarded the Grand Prix de Littérature Policière in 1958.
• Chester Himes books
---
(no commercially
available images)
S. E. Hinton
b. 7-22-1948; Tulsa, OK

Susan Eloise Hinton is best known for her young adult novels such as The Outsiders which she began writing as a teenager. it was published in 1967 and sold more than 14 million copies.
S. E. Hinton quotes ~
• "I like having a private name and a public name. It helps keep things straight."
• "Anything you read can influence your work, so I try to read good stuff."
• "I have no idea why I write. The old standards are: I like to express my feelings, stretch my imagination, earn money."

---
Christopher Hitchens
b. 4-13-1949; Portsmouth, England
d. 12-15-2011; Houston, TX (esophageal cancer)
Author, columnist, editor, and book critic Christopher Hitchens has written regularly for numerous publications, including The Atlantic Monthly, Vanity Fair, Granta, and Harper's. His most recent books are Blood, Class, and Empire and A Long Short War. He was writing a book on the subject of the Ten Commandments at the time of his death.
Christopher Hitchins quote ~
• "Terrorism is the tactic of demanding the impossible, and demanding it at gunpoint."
• "Since it is obviously inconceivable that all religions can be right, the most reasonable conclusion is that they are all wrong." ~ see on Voices of Reason poster

---
previous page | top | next
author list | a | b | c | d | e | f | g |
Hag-Hal | Ham-Han | Har | Hau-Haw | Hea-Hem | Hen-Her | Hes-Hey |
HI | Ho-Hop | Hor-How | Hub-Hun | Hur-Hw |
i | j | k | l | m | n | o | p | q | r | s | t | u | v | w | x-y-z
---
I have searched the web for visual, text, and manipulative curriculum support materials - teaching posters, art prints, maps, charts, calendars, books and educational toys featuring famous people, places and events - to help teachers optimize their valuable time and budget.
Browsing the subject areas at NetPosterWorks.com is a learning experience where educators can plan context rich environments while comparing prices, special discounts, framing options and shipping from educational resources.
Thank you for starting your search for inspirational, motivational, and educational posters and learning materials at NetPosterWorks.com. If you need help please contact us.
---