LITERATURE & LANGUAGE ARTS
CLASSROOM POSTERS INDEX -


19thC American Authors


20thC American Authors


Alphabets


Am. Authors Timelines


Authors & Writers - alpha list


Banned Books


Great British Writers


Children's Literature


Classic Children's Authors


Fairy Tales & Folklore


Fireside Poets


Grammar


Great Thinker Quotes


Historic Reading Posters


History Through Literature


Latino Writers


Literature Drama


Literary Elements


Middle Ages Literature


Nursery Rhymes


Poetry Forms


Poetry & Quotes


Prose


Reading in Art


Reading Motivation


Shakespeare


Voices of Diversity


Women Writers


Writers/Changed the World

................................

LINKS FOR LEARNING


LESSON PLAN IDEAS


BOOKSHELVES


THIS DAY IN HISTORY

---
---
---
An Old Favorite!
Authors Card Game
---
---

---
Edwin Abbott
b. 12-20-1838; England
d. 10-12-1926
Edwin Abbott, a teacher and author of Flatland: A Romance of Many Dimensions, is a math satire and religious allegory of a two dimensional world where the square narrator guides readers through some of the implications of life in two dimensions. Isaac Asimov said in the Foreword that Flatland is "The best introduction one can find into the manner of perceiving dimensions."
Edwin Abbott quote ~
• "Imagine a vast sheet of paper on which straight Lines, Triangles, Squares, Pentagons, Hexagons, and other figures, instead of remaining fixed in their places, move freely about, on or in the surface, but without the power of rising above or sinking below it, very much like shadows - only hard with luminous edges - and you will then have a pretty correct notion of my country and countrymen."

• more Flatland book cover print
• more computer posters

---
Chinua Achebe
b. 11-16-1930; Ogidi, Anambra State, Nigeria
d. 3-21-2013; Boston, MA
Nigerian author, poet and critic Chinua Achebe is best known for his novels Things Fall Apart, No Longer at Ease and Arrow of God.
Achebe served as a professor of Languages and Literature at Bard College, New York prior to becoming the David and Marianna Fisher University Professor of Africana Studies at Brown University from 2009 until his death.
Chinua Achebe quotes ~
• "People create stories create people; or rather stories create people create stories."
• "The whole idea of a stereotype is to simplify. Instead of going through the problem of all this great diversity - that it's this or maybe that - you have just one large statement; It is this."
• "When suffering knocks at your door and you say there is no seat for him, he tells you not to worry because he has brought his own stool."
• "To answer oppression with appropriate resistance requires knowledge of two kinds: in the first place, self-knowledge by the victim, which means awareness that oppression exists, an awareness that the victim has fallen from a great height of glory or promise into the present depths; secondly, the victim must know who the enemy is. He [or she] must know his [or her] oppressor's real name, not an alias, a pseudonym, or a nom de plume!"
FYI - The title of Things Fall Apart is from a line in William Butler Yeats poem "The Second Coming".
---
Abigail Adams
b. 11-11-1744; Weymouth, MA
d. 10-28-1818
Abigail Adams, the only woman in history who was both the wife and mother of a U.S. President, was an extremely intelligent and forceful woman with strong opinions on many subjects. ... In one letter to her husband, John Adams, she wrote that "all men would be tyrants if they could." Therefore, she insisted, a statement of the rights of women should be included in the Declaration of Independence.
• more Abigail Adams posters
• more Great American Women posters
• Revolutionary War posters

---
Douglas Adams
b. 3-11-1952; Cambridge, England
d. 5-11-2001; Santa Barbara, California
Douglas Adams's Hitchhiker's Guide to the Galaxy began as a radio comedy and morphed into five bestselling books, a television series, stage play and feature film.
Douglas Adams quotes ~
• "He hoped and prayed that there wasn't an afterlife. Then he realized there was a contradiction involved here and merely hoped that there wasn't an afterlife."
• "I love deadlines. I like the whooshing sound they make as they fly by."
• "There is a theory which states that if ever anybody discovers exactly what the Universe is for and why it is here, it will instantly disappear and be replaced by something even more bizarre and inexplicable. There is another theory which states that this has already happened."
• "Isn't it enough to see that a garden is beautiful without having to believe that there are fairies at the bottom of it too?" ~ see on Voices of Reason poster

---
Harriet Chalmers Adams
b. 10-22-1875; Stockton, California
d. 7-17-1937; Nice, France
Explorer, writer and photographer Harriet Chalmers Adams traveled extensively in South America, Asia, and the South Pacific. Her accounts were published in the National Geographic magazine and she lectured extensively.
Chalmers-Adams was also the only female journalist allowed to visit the trenches in World War I while she was a correspondent for Harper's Magazine.
---
Richard Adams
b. 5-9-1920; Newbury, Berkshire, England

Novelist Richard Adams is best known for Watership Down, a story he began telling to his two daughters, and they insisted he publish it as a book. Watership Down traces a tale of a band of very special rabbits fleeing from the intrusion of man to a mysterious promised land and a more perfect society.
Adams also wrote Traveller, a story about Robert E. Lee's horse, and Plague Dogs that was made into a movie.
---
Jane Addams
b. 9-6-1860; Cedarville, IL
d. 5-21-1935; Chicago
Author and lecturer Jane Addams is best known for being a founder of Hull House in Chicago where, "... At its height, Hull House was visited each week by around 2000 people ... as night school for adults (forerunner of continuing education classes), kindergarten classes, clubs for older children, a public kitchen, an art gallery, a coffeehouse, a gymnasium, a girls club, bathhouse, a book bindery, a music school, a drama group, a library, and labor-related divisions ... and an opportunity for young social workers to acquire training. Hull House stressed working with children and women in the Americanization of new immigrants.
Addams was also a Nobel Peace Prize winner in 1931, shared with Nicholas Murray Butler.
Jane Addams quotes ~
• "Nothing could be worse than the fear that one had given up too soon, and left one unexpended effort that might have saved the world."
• "If the meanest man in the republic is deprived of his rights,then every man in the republic is deprived of his rights."
• "Social advance depends as much upon the process through which it is secured as upon the result itself."
• "I am not one of those who believe – broadly speaking – that women are better than men. We have not wrecked railroads, nor corrupted legislatures, nor done many unholy things that men have done; but then we must remember that we have not had the chance."

FYI ~ Author Willard Motley was associated with Hull House.
• The Long Road of Woman's Memory (Online)
• Why Women Should Vote; A Modern Lear (Online)

---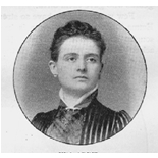 Yda Addis
Yda Addis
b. 1857; Lawrence, KS (raised in Mexico)
d. disappeared 1902
Yda Addis translated and published Mexican folk histories, as well as writing original fiction. She learned the stories as she assisted her photographer father travel Mexico and the American Southwest.
FYI - The family had moved from Kansas to Mexico at the beginning of the American Civil War; Addis had been engaged to much older former California governor, John G. Downey, when his family broke up the relationship; she was sued in another divorce case; married an abusive man who committed her to an insane asylum from which she escaped and then disappeared.
---
Joseph Addison
b. 5-1-1672; Milston, Wiltshire, England
d. 6-17-1719; London
Joseph Addison was a poet and essayist usually remembered alongside his long-standing friend, Richard Steele, with whom he founded The Spectator magazine. The magazine, published 1711-12 and again for six months in 1714, catered principally to the interests of England's emerging middle class, with the stated goal "to enliven morality with wit, and to temper wit with morality... to bring philosophy out of the closets and libraries, schools and colleges, to dwell in clubs and assemblies, at tea-tables and coffeehouses".
Joseph Addison quotes ~
• "Reading is to the mind what exercise is to the body."
• "A true critic ought to dwell upon excellencies rather than imperfections, to discover the concealed beauties of a writer, and communicate to the world such things as are worth their observation."
• "Books are the legacies that a great genius leaves to mankind, which are delivered down from generation to generation as presents to the posterity of those who are yet unborn."
• "Music can noble hits impart/ Engender fury, kindle love/ With unsuspected eloquence can move/ And manage all the man with secret art."
• "The gloomy months of November, when the people of England hang and drown themselves."
• "I value my garden more for being full of blackbirds than of cherries, and very frankly give them fruit for their songs."
---
George Ade
b. 2-9-1866; Kentland, IN
d. 5-16-1944
George Ade, following the footsteps of his idol, Mark Twain, was a writer best known for his humorous newspaper columns about the "little man" of Chicago and the Midwest. Ade's columns were illustrated by his college fraternity brother John T. McCutcheon.
George Ade quotes ~
• "A man never feels more important than when he receives a telegram containing more than ten words."
• "Early to bed and early to rise is a bad rule for anyone who wishes to become acquainted with our most prominent and influential people."

---
Mortimer Adler
b. 12-28-1902; NYC, New York
d. 6-28-2001; California
Mortimer Adler, philosopher, educator, and popular author, was one of the founders of the Great Books of the Western World program.
Mortimer Adler quotes ~
• "Friendship is a very taxing and arduous form of leisure activity."
• "Freedom is the emancipation from the arbitrary rule of other men."
• "Not to engage in the pursuit of ideas is to live like ants instead of like men."

---
previous page | top | next
authors list >
AB-AD | Ae-Ak | Al | Am-Ap | Ar | As | At-Az | b | c | d | e | f | g | h | i | j
k | l | m | n | o | p | q | r | s | t | u | v | w | x-y-z
---
I have searched the web for visual, text, and manipulative curriculum support materials - teaching posters, art prints, maps, charts, calendars, books and educational toys featuring famous people, places and events - to help teachers optimize their valuable time and budget.
Browsing the subject areas at NetPosterWorks.com is a learning experience where educators can plan context rich environments while comparing prices, special discounts, framing options and shipping from educational resources.
Thank you for starting your search for inspirational, motivational, and educational posters and learning materials at NetPosterWorks.com. If you need help please contact us.
---