EDUCATIONAL, REFERENCE, &
CLASSROOM POSTERS INDEX -


art education & history


dance


early childhood


food & cuisine


geography


health & fitness


history


holidays


language arts & literature


math


motivational


music


notable people


peace education


pets & animals


theology


science


social studies


vocational education


Global PathMarkers


Free Poster Index


History of Posters

---

FAQS/ABOUT


SEARCH


CONTACT


LINKS FOR LEARNING


LESSON PLAN IDEAS


BOOKSHELVES


ECARDS


THIS DAY IN HISTORY

---
---

---
Omar Bradley
b. 2-12-1893; Clark, Missouri (considered Moberly his hometown)
d. 4-8-1981
Omar Bradley was one of the main U.S. Army field commanders in North Africa and Europe during World War II, and a General of the Army in the United States.
Bradley, who was the son of a schoolteacher, and taught mathematics at his alma mater West Point between World War I and II, has the reputation of being "a polite and courteous man". He was informally known as "the soldier's general" (Ernie Pyle) and "never known to issue an order to anybody of any rank without saying 'Please' first."
FYI - Omar Bradley and WWI officer John J. Pershing, also once a teacher, were born in north central Missouri.
Omar Bradley quotes ~
• "We have men of science, too few men of God. We have grasped the mystery of the atom and rejected the Sermon on the Mount. The world has achieved brilliance without conscience. Ours is a world of nuclear giants and ethical infants. We know more about war than we know about peace, more about killing than we know about living. If we continue to develop our technology without wisdom or prudence, our servant may prove to be our executioner. " ~ Statement (31 May 1948), quoted in An Inconvenient Truth : The Planetary Emergency Of Global Warming And What We Can Do About It (2006) by Al Gore
• "It is time that we steered by the stars, not by the lights of each passing ship."
• "We are dealing with veterans, not procedures; with their problems, not ours."
• "Wars can be prevented just as surely as they can be provoked, and we who fail to prevent them must share the guilt for the dead." ~ quoted by Peace Pilgrim

---
Louis Braille
b. 1-4-1809; Coupvray, France
d. 1-6-1852; Paris
The braille system of reading and writing for blind and visually impaired people was developed by Louis Braille.
Braille, who was blind from the age of four, was a notable teacher at the Royal Institution for Blind Youth in Paris.
• more alphabet posters
Quotes about Braille ~
• "Learning to read music in Braille and play by ear helped me develop a damn good memory." Ray Charles
---
---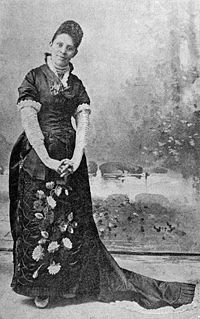 Hallie Quinn Brown
Hallie Quinn Brown
b. 3-19-1849; Pittsburgh, PA
d. 9-16-1949; Wilberforce, OH
Writer and activist Hallie Quinn Brown was a teacher and educator, serving as dean of Allen University, principal of Tuskegee Institute in Alabama from 1892 to 1893, and a professor at Wilberforce in 1893. She was a frequent speaker about temperance and represented the U.S. at the International Congress of Women in London in 1899. Brown also spoke at the Republican National Convention in 1924 and later directed campaign work among African American women for President Calvin Coolidge.
---
Gwendolyn Brooks
b. 6-7-1917; Topeka, KS
d. 12-3-2000; Chicago (cancer)
Gwendolyn Brooks, poet and teacher of creative writing, was awarded the 1950 Pulitzer Prize, received a National Book Foundation Medal for Distinguished Contribution to American Letters, and was appointed Poet Laureate Consultant in Poetry to the Library of Congress in 1985.
Gwendolyn Brooks quotes ~
• "I am a writer perhaps because I am not a talker."
• "Very early in life I became fascinated with the wonders language can achieve. And I began playing with words."
• "Writing is a delicious agony."
• "Reading is important - read between the lines. Don't swallow everything."
• "Poetry is life distilled."
• "Each body has its art..."
• "One reason that cats are happier than people is that they have no newspapers."
• Selected Poems, Gwendolyn Brooks
• Essential Brooks CD (Audio CD)
---
Margaret Wise Brown
b. 5-23-1910; Brooklyn, NY
d. 11-13-1952; Nice, France
Margaret Wise Brown, best known for Goodnight Moon and Runaway Bunny, also wrote The Little Island, the 1947 Caldecott Medal winner that was published under a pen name of Golden MacDonald.
FYI - Brown also taught at the Bank Street Experimental School in New York City.
---
Jerome Bruner
b. 10-1-1915; New York

Jerome Bruner is an educational psychologist working in cognitive learning theory, basing his ideas on categorization.
Jerome Bruner quote ~
• "To perceive is to categorize, to conceptualize is to categorize, to learn is to form categories, to make decisions is to categorize."

---
previous page | top | next
Famous Educators List | a | Ba | Be | Bi | Bl | Bo | BR | Bu
| c | d | e | f | g | h | i | j | k | l | m | n | o | p | r | s | t | u-v | w-z
---
I have searched the web for visual, text, and manipulative curriculum support materials - teaching posters, art prints, maps, charts, calendars, books and educational toys featuring famous people, places and events - to help teachers optimize their valuable time and budget.
Browsing the subject areas at NetPosterWorks.com is a learning experience where educators can plan context rich environments while comparing prices, special discounts, framing options and shipping from educational resources.
Thank you for starting your search for inspirational, motivational, and educational posters and learning materials at NetPosterWorks.com. If you need help please contact us.
last updated 12/2/13